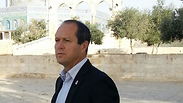 ביקור ראש עירייה עיריית ירושלים ניר ברקת ב הר הבית ירושלים
Jerusalem Mayor Nir Barkat on Thursday called on residents who are licensed to carry weapons to do so on a daily basis.

Against the background of a deteriorating security situation which has in recent days spread from Jerusalem and the West Bank to other parts of the country, more and more voices are being heard calling on citizens to carry guns every day to deal with attacks that might take place near them.

"One advantage that Israel has is that there are quite a few ex-members of military units with operational combat experience," Barkat said. "Possessing weapons increases the confidence of residents, who know that in addition to police there are many people who are not afraid to intervene. If we look at the statistics in Jerusalem and elsewhere, we see that aside from the police, civilians carrying weapons have foiled terror attacks. They will increase the likelihood of fast intervention."

This week Israel's Channel 1 broadcast images of Barkat touring the East Jerusalem neighborood of Issawiya with a weapon, saying he wanted to set an example during tense periods. "I don't carry it every day and everywhere I go, only in conflict areas," he said.

On Wednesday, the Commander of the Ashdod police station, Chief Superintendent Noam Shekel, also called on residents who have a weapons permit to carry them.