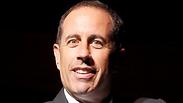 Jerry Seinfeld
Photo: Jason Shaldon
Jewish-American comedian Jerry Seinfeld will perform in Israel for the very first time this winter as part of his world tour. After the first performance, scheduled for December 19, was almost sold out in under a day, the production announced Thursday that another show would be held on December 20.

On Wednesday, Seinfeld sent his fans in Israel a special invitation to the show:

The show will be held in English at Tel Aviv's Menora Mivtachim Arena. Tickets are on sale at a starting price of NIS 250 ($65), and can be purchased through the Lean ticket office at 03-5247373 or *8780, www.lean.co.il. A VIP package granting a seat in the five first rows goes for NIS 1,250 ($323). The comedian is being brought to Israel by producer Gad Oron and JS Touring.

Seinfeld began performing as a stand-up comedian after college, and went on to become one of the famous comedians in the world after teaming up with Larry David and creating legendary television sitcom "Seinfeld," which ran for nine seasons on NBC from 1989 to 1998.

After ending the sitcom, Seinfeld went on tour, produced a documentary called "Comedian," wrote books based on past routines, wrote and starred in animated comedy family film "Bee Movie," and made guest appearances in different series and programs. Three years ago, he started a web series called "Comedians in Cars Getting Coffee."

Seinfeld has visited Israel in the past and even volunteered in Kibbutz Sa'ar when he was 15 years old, but has never performed in Israel before.