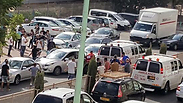 A Jewish Israeli with a psychiatric history was arrested in Dimona Friday morning after four Bedouins were stabbed in what initial investigations labeled a nationalistically motivated attack.

Three of the victims are municipal workers.

The 17-year-old stabber, know to police, admitted under questioning that he believes all Arabs are terrorists and that is the reason why he stabbed them.

Scene of the attack. (צילום: אפרת כרמית ומשטרת ישראל)

Police dispatchers received a call about a stabbing in Dimona. There was a further call to police regarding three people stabbed at an entrance to a school in Dimona.

Police arrived at the scene and identified the suspect, a Jewish resident of Dimona. He was arrested and taken in for questioning.

Prime Minister Benjamin Netanyahu's office reported that he strongly condemned the attack against innocent Arabs.

"Israel is a country of law and order. Those who use violence and break the law – from whatever side – will be dealt with to the fullest extent of the law," the Prime Minister said.

Two of the wounded were taken to Soroka Medical Center in Be'ersheva in medium to serious condition. Two were in light condition.

Thursday night Jews tried to lynch three Arabs at Kikar Haatzmaut in Netanya, while shouting "death to the Arabs". Two managed to escape, but the third was injured.

Police rescued him and saved his life. No suspects have been arrested yet.

It apparently started when dozens of residents spotted three Arabs there. According to bystanders, one of the Arabs shouted 'Allahu Akbar' and the crowd began to gather around them.

Two Arabs managed to flee while the third was assaulted with sticks and chairs. He collapsed to the ground but they continued to attack him while he was pleading for his life. Shouts of 'death to Arabs' and "Netanya mows down Arabs', were thrown at him.

During the confusion a woman was almost attacked as well. Only after she shouted back, "I'm Jewish, I'm Jewish," did they leave her alone.

Police arrived on the scene and managed to rescue the Arab. Magen David Adom treated him and took him to Laniado Hospital in the city. His condition was defined as light with bruises all over his body. He was detained at the police station.

The attempted lynch was recorded by citizens who distributed videos on social networks. Police said that an investigation is underway but no suspects have been arrested yet.

Another 30-year-old Arab woman was lightly injured while driving her car in the center of Netanya and treated on the scene by Magen David Adom paramedics on Friday.

According to the victim, the attackers were Jewish and the motive was nationalistic.