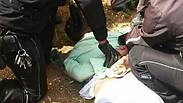 The recent wave of attacks continued across Israel on Friday, with a string of stabbings and rock attacks on Israelis throughout the country.
On Friday afternoon six people including two children, were lightly wounded as a result of a car accident that the IDF confirmed was caused by stone-throwing.
Magen David Adom (צילום: דוברות מד"א ומועצה אזורית שומרון)
The wife and children of Yossi Dagan, the head of the Shomron Regional Council, were in one of the cars. The family was on their way to the protest tent Dagan established in Jerusalem when their vehicle was attacked by stones near Eli.
The family was evacuated to a Jerusalem hospital for treatment.
"I have been in the tent for a week and am now on my way to the Shaare Tzedek hospital to visit my wife and three children, who were injured by stone-throwers," Dagan said.
Earlier in the day, a 15-year-old Haredi Jew was stabbed on Shaul Hanavi Street in Jerusalem by and was lightly wounded.
The attacker was neutralized by security forces at the scene.
The terrorist who conducted the Friday morning attack was later named as Younis Abu Zawid, a resident of the village of Bitunia near Ramallah.
The victim originally reported that the attacker had punched him, but stab wounds were later found on the teen.
Just minutes after, a 47-year-old police officer was wounded in Kiryat Arba when a suspect tried to steal his rifle and was shot by other police officers.
The incident occurred during a routine security check. The perpetrator was said to be in critical condition.
One of the policemen was lightly wounded.
A short while after the incident in Kiryat Arba, a female attacker was shot and seriously wounded after trying to stab a security guard at the entrance to the central bus station the northern city of Afula.
Video: Shlomo Mizrahi (צילום: שלמה מזרחי ועמית שטרית)
The perpetrator, later named as Asra Zidan Taufiq Abed, a 30-year old Israeli citizen living in Nazareth, was evacuated to a local hospital.
The scene of the attmempted attack
Friday's attacks came after a long string of incidents that have wounded dozens across Israel in the past week, that have also led to violence against Arabs.