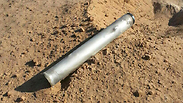 Photo: Archive/Ilan Eizekson
Code red sirens sounded in southern Israel as one rocket fired from Gaza fell in an open area in the Eshkol Regional Council next to the border fence with Gaza just after 1am on Saturday morning.

No damage or wounded were reported in the attack and no group or organization has claimed responsibility for the rocket fire.

Just a few short hours previously, two additional rockets were fired at Israel but fell short, landing in the Gaza Strip.

The last case of rocket fire reaching Israeli territory from the Gaza Strip came just last Sunday, sparking a retaliatory attack from the Israeli Air Force on Hamas targets in the Palestinian enclave.

Concern over escalation with Palestinians in Gaza mounted on Friday evening when hundreds of Gazans rioted near the border fence and IDF troops fired on several individuals, killing seven and wounding 60.

The rocket attack on Saturday morning followed several days of severe tensions in the West Bank and East Jerusalem that have resulted in nationalistic attacks on civilians, intense rioting and concern that Israel may be in the midst of a third Palestinian Intifada, or uprising.

Tensions continued in the West Bank as a 20-year-old Palestinian was killed during clashes with Israeli security forces overnight between Friday and Saturday in East Jerusalem's Shuafat refugee camp.

The individual was a resident of Shuafat.

This was the same individual who was reported to be in serious condition after an exchange of gun fire with Israeli police in Shuafat earlier in the night.

Rioters threw rocks, firebombs and explosive devices at security forces during the unrest and an 10 Palestinians were evacuated for medical care.

In a separate incident overnight, a Palestinian armed with a gun and knife was lightly wounded while reportedly trying to infiltrate a Jewish settlement near Hebron with the intent to carry out an attack on residents.

The suspected individual was shot by local guards and the weapons were subsequently found on his person.

West Bank clashes that continued late into Friday night were part of what Palestinians called a "Day of Rage" in anger for Palestinian deaths in recent days and Israeli policy on Jerusalem's Temple Mount.