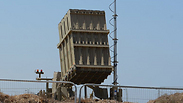 Photo: Archive/Avi Rokach
Photo: Avi Rokach
Israel's anti-missile defense system, Iron Dome, was deployed in the south of the country on Saturday, covering the areas of Be'er Sheva and Ofakim after three rockets were fired from the Gaza Strip late Friday night.

Only one of the rockets made it across the border and into Israeli territory, but defense officials decided to deploy the Iron Dome batteries as a precaution in light of severe clashes with Palestinians along the border fence on Friday afternoon.

Seven Gazans were killed during the riots, while at least 60 were wounded when IDF troops fired live ammunition at Palestinians who threw rocks and tried to break into Israel.

Violence on the border, as well as ongoing attacks and riots across the West Bank led to the decision to deploy Iron Dome.

Despite the deployment, officials stressed that residents of the south should still go about their business as usual and that there were no emergency protocols in place.

An Iron Dome battery was also deployed to cover the city of Sderot three weeks ago, but only after a rocket from Gaza struck the city and damaged both a bus and a home.