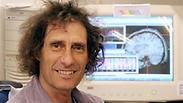 Professor Idan Segev, Hebrew University of Jerusalem
An international team of scientists, including Professor Idan Segev from the Hebrew University of Jerusalem, has taken an important step in understanding the human mind by being the first to create a detailed, computerized representation of brain tissue.

Segev is part of the Blue Brain Project, a team of experts who hope to one day create a computer simulation detailing the smallest chemical and nervous reactions in the brain, giving valuable insight into how the human mind functions.
The computerized model imitates the biological brain
On Thursday, Blue Brain Project researchers published a detailed computerized representation of a rat's brain tissue for the first time. The research shows a digital reconstruction of an area in the rat's brain, relating to touch.

Watch: 3-D simulation of a human brain

The digital reconstruction is an encompassing computer model, representing the electrical patterns of about 30,000 neurons in restored tissue, and about 40 million synapses (connections between neurons) that they create.

The research, which was published in the lucrative scientific journal Cell, is the result of the combined efforts of 82 scientists and engineers at the EPFL (a research university in Lausanne, Switzerland), as well as institutes in Israel, Hungary, the United States, China, Sweden, and the UK. It represents 20 years' worth of biological experiments, and ten years' worth of calculations and algorithm development, through which the program required to digitally reconstruct the tissue was written.
'The research will help future generations too'
"In the Blue Brain Project, we're creating a detailed digital reconstruction of a neural network in the brain, and by using computer simulations, we're investigating and furthering our understanding of the neural network's behavior," explains Prof. Segev. "This allows us to examine brain phenomena in a digital environment. In the past, such experiments were only possible using biological tissue.

"The insights we gather from these experiments will help us understand different states in the healthy and unhealthy brain, and in the future we could also use the digital model to develop new ways of treating brain illnesses. All of the data we've collected and all of the models we've built are available to the scientific community worldwide, and will be preserved for future generations using a new platform we've built.

"The research really demonstrates that it's possible to recreate and simulate brain tissue digitally, and expose new insights about the brain's operations that way. It's a first step and a significant contribution to the European Union's Human Brain Project, initiated by Professor Henry Markram of the EPFL."