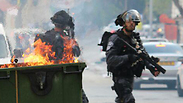 נצרת מאות מפגינים הפגנה הפגנת הזדהות מגזר ערבי גל טרור צעירים מיידים יידוי אבנים שריפה
Around 1,500 people demonstrated in Nazareth on Saturday afternoon, while other protests occurred throughout the West Bank, around Jerusalem, and on the Gaza Strip border.

"The police and the racists are the terrorists," chanted protesters.

Protesters condemned the shooting of the female attacker from Nazareth when she attempted to stab a security guard in Afula on Friday.

A few politicians participated in the Nazareth protest, including Members of Knesset Yousef Jabareen and Aida Touma-Sliman (both members of the Joint List). The Nazareth protest was organized by Hadash, an Arab political party.

A large number of businesses were closed, and the city, which is usually full of visitors on weekends, was almost completely empty. Five people were arrested during the demonstration.

Saturday saw protests in several other locations.

Some 100 Palestinians threw rocks and burned tires in clashes with Israeli security forces just south of Hebron on Saturday afternoon. IDF troops responded with crowd control measures. Meanwhile, dozens of Palestinians threw rocks across the Gaza Strip's northern border fence at IDF troops on Saturday afternoon. In Ramla, at least ten protesters were arrested. In the Esat Jerusalem's Shuafat neighborhood, a riot erupted after the funeral of a Palestinian who was killed by IDF fire, and one Palestinian was shot.

A series of protests occurred on Saturday evening. A demonstration by Arabs and Jews against the current violence was held in Jaffa at 7pm. Two protests – one left-wing, one right-wing – took place in Haifa at 8pm.

Calls for Arabs in Israel to take to the streets have proliferated on social media in the past few days.