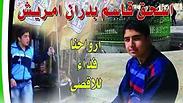 Since the current escalation began, Palestinian President Mahmoud Abbas has spoken about it publicly three times and repeatedly stated he did not seek further escalation. On Saturday, however, official flyers distributed by Fatah, the party led by Abbas, praised the Palestinians who earlier in the day violently attacked Israelis.

A few hours after the attack by Ishaq Badran, a 16-year-old Palestinian from the village of Akeb in north-east Jerusalem, in which two people were wounded, Fatah quickly printed an official flyer announcing Badran's death. In it, Badran was called a "hero shahid" (martyr). On the bottom, "Eternal life and glory for our shahids" was written, as well as "Our essence is sacrificing ourselves for al-Aqsa". The flyer features photos of Abbas and the late Yasser Arafat, founder of Fatah.

A nearly identical flyer was issued for terrorist Mohammed Ali, who perpetrated the attack at the Damascus gate on Saturday.

Digital copies of the flyers were also uploaded to the official Fatah Twitter account. These join the heavy praise that Palestinian public radio, controlled entirely by Abbas, gives these terrorists ("shahids") – something which fans the already-raging fire.

Abbas generally tries to cultivate a moderate image of himself with the outside world. In one of his statements, he indirectly called for Palestinian youth to not worsen the situation.

A few days ago, Abbas met with the heads of Palestinian security forces in Ramallah, instructing them "Not to give a chance to Israeli plans, whose goal is to escalate the situation and drag us into a cycle of violence."