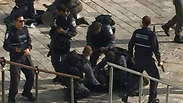 Scene of attack in Jerusalem
Israeli Police announced on Saturday that starting Sunday, hundreds of Border Police reservists will be called up to boost preparedness amid mounting violence.
The police have decided to prepare for the possibility that disturbances among the Arab population will spread.
They have been focusing on reinforcing security in the Jerusalem area and in mixed Jewish-Arab cities. In addition, certain major roads have received more security.
The police's cybercrime unit and its Arab speakers are to be tasked with monitoring possible planning of attacks on social media.
Interim Police Chief Deputy Commissioner Bentzi Sau said on Tuesday that Jerusalem District would be reinforced with 2,000 police officers, which he said could continue for several months.
"We are at a very high level of preparedness," said Sau. "That said, you have to remember that we are working with a lack of resources. Yesterday, the prime minister directed me to present within two weeks a program to significantly reinforce the Israeli Police."
Prime Minister Benjamin Netanyahu said: "I have ordered the mobilization of Border Police companies in order to restore security and order in Jerusalem and around the country. We will continue to do all that is necessary."