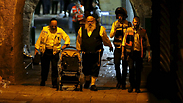 Site of shooting attack in Jerusalem
Photo: Reuters
Terrorism is contagious: Anyone who's lived through it knows that whatever happens on a side road near Nablus or a narrow alley in Jerusalem's Old City doesn't necessarily stay there.

Terror quickly spills over into big city centers, to the heart of the country. This happens whether the terrorism is guided from above, by military wings of organizations, or when it rises up from below, with knife and screwdriver-wielding loners.

Trigger Happy

Op-ed: In their attempt to engage terrorists, Israeli troops' default option has become shoot to kill. It may soon backfire - quite literally.

At the start of the month, after murderous terrorist acts in Jerusalem and the West Bank, we started calling this wave "the Third Intifada." Since then, one terror attack has followed another. They spill over to different places, times, circumstances. They have plague-like, epidemic features.

The feeling is that the entire country is the front lines, and all of the people are potential stabbing targets. That is exaggerated, of course. It's still better to live here than in most other countries, and safer than in many. But the feeling has power.

Tel Aviv, which was added to the current wave's terror-stricken list on Thursday afternoon, isn't immune. It was a target in previous rounds of terrorism, and there's no reason to think it won't be one this time. The question isn't where it happens, but how to minimize damage, how to force regret into the hearts of terrorists, how to convince them that living is better than dying. We need to give them a good reason to live.

On this matter, both Israel and the Palestinian Authority (PA) have failed. Both have offered the masses of youths who have grown up in Gaza and the West Bank only one option: Despair. Things have reached an apex in recent years: No expectations, no future, no hope. That swamp is an ideal Petri dish for terrorism.

Israeli ministers are displaying a single vision in response to this wave of terror: Escalate personal and collective punishment, oppress the Palestinian population till they hit the ground. They believe that despair can be beaten with more despair, that mutinies can be quashed by punishment, taxes and draconian fines.

It seems to me that Netanyahu is more experienced than them – he knows that it won't work that way. But voters expect him to act, and so he supplies them with daily demi-decisions, which won't change things in practice, but will add a stench to the impression Israel has with the West.

Netanyahu can count on one thing: Time. These kinds of violent cycles tend to consume themselves. He doesn't know if it'll take a week, a month, a year or three. He doesn't know what price Israelis will pay until it ends, and after that. But Netanyahu does know that this wave, too, will end.

Israel is a bad occupier, and always has been. Instead of giving the occupied population hope, it settled among it. Instead of taking care of the people's welfare, success, safety – it treated them with a lack of generosity and respect, refusing to either live with them or disengage.

That doesn't mean that terrorism is morally justified. Terrorism is the rotten fruit of despair, the monster it births. But it doesn't come from nowhere: It has a mother and father, grandparents, and siblings.

At 10:40am on Wednesday, I was walking in Hagai St. in Jerusalem's Old City. I was with Ahmed Sub Laban, who had witnessed the recent murderous terrorist attack. I wanted to understand what exactly happened there when the terrorist stormed at Aharon Bennett and his wife Adele, where she ran, whose ears heard her yelling for help.

We walked the Bennett couple's path, from the Western Wall to the house named after Sharon, even though Sharon didn't spend a single night there. Suddenly there was a sharp sound of a woman's scream, almost inhumanly loud, and a few seconds later the sound of gunfire.

The crowded alley went silent all at once. People found cover in storefronts. The Palestinians quickly ran to the back, to avoid trouble. Their faces were terrified. I ran forward, in parallel with the police.

The terrorist, a young woman in a long, grey dress, collapsed on the cobblestones, her body twisted. The officers rolled her with their legs, onto her stomach, onto her back, making sure she didn't have any concealed weapons. The knife was on the floor next to her, covered in blood.

The terrorist attack happened next to the Ateret Cohanim yeshiva. Near it is a sewing notions store. The attacker, an 18-year-old woman from Tsur Baher, Shorouq Dwayyat, fell right next to the colorful toys being sold in the alley.

After she was checked for weapons, a medic came to treat her. He then proceeded to treat Daniel, from one of the Jewish Quarter's yeshivas, who managed to take out his gun and neutralize the attacker, even after she had stabbed him. He was lightly wounded in his hand and upper body. He was treated on at the scene. As far as results go, that attack ended up being not so bad.

The Magen David Adom (MDA) vehicle came from the Western Wall area – a narrow jeep that was converted into an ambulance, as regular ambulances are too wide to fit through the Old City's alleyways. The terrorist was loaded onto the jeep, which went back to the Western Wall. She left behind a stain on the street, and a bloody piece of cloth.

Police closed the area at this point, clearing out all civilians. Dozens of police officers and border police soldiers came in. They acted quickly and professionally. It didn't require the use of violence: The few Arabs who remained in the area followed one of the officers in stunned silence. You could cut the fear with a knife.

Fewer than 100 meters north of there, at the site of the previous terror attack on the same street, an improvised synagogue was erected. In a fenced-out space in the alley, people praying wore tallits and raised Israeli flags. "Here there were partners in murder," read a sign. "El nekamot Adonai, El nekamot hofia," (God is a vengeful God, a vengeful God will appear) said another.

The IDF calls these terrorist "inspired attacks", ones that come from below, sparked by preaching at a mosque, TV footage, a post on social media.

They're distinct from "guided attacks", terrorist attacks that come from the top, such as the murder of the Henkins. The mounting wave of attacks has threatened to tear apart long years of cooperation between security forces on both sides - a cooperation that has served to prevent terrorism. The IDF is prepared to try and save what remained.

The struggle is fighting against terrorism (both Palestinian and Israeli), against hasty politicians (both Palestinian and Israeli), against religious extremism, nationalistic fervor, and the horror in people's eyes when they walk the streets.
The Friday dilemma
Netanyahu had to make a difficult operational decision this week. He didn't share the dilemma with his Facebook followers: It was too sensitive. The question was asked ahead of the Friday prayers in the Temple Mount. Should the restriction on people entering the Temple Mount, allowing only 50-year-old or older Muslims to enter, remain or be lifted?

The IDF recommended that it be lifted: Lifting the restriction and opening the gates to the mount could abate the wave of terrorism, signal that it's time to calm down. Others warned: Masses of youths will go up to al-Aqsa, there will be violence, police will lose control, people will get hurt, there will be bad images.

The political, marketing aspect also bothered Netanyahu: How would Israelis take his decision to open the gates on a week that Arab terrorists spilled Jewish blood every day? Right-wing protesters would say he gave terrorists a prize, that he caved in to the pressure. He can't afford such luxuries.

Sources in the IDF offered an interesting argument in favor of opening the mount. The key to violence, but also to calming it down, they said, is in the Temple Mount. How will we convince the Palestinians that we aren't planning on changing the status quo in the Temple Mount, when by deciding to limit entry to it we are, de facto, doing just that?

As I write, we don't yet know what Netanyahu decided. On Thursday, to the surprise of Old City Muslims, the mount was open to all Muslims, of any age. The Muslim Quarter was calm. No one knew, of course, what would happen eventually. On Wednesday, it was terrorist attacks in Kiryat Gat, Petah Tikva, Beit Sahour, and The Old City. On Thursday, it was attacks in northern Jerusalem and in Tel Aviv.

Meanwhile, Netanyahu decided to prevent ministers and Knesset members from going to the Temple Mount. In September 2000, when Ehud Barak was prime minister, he assumed he couldn't prevent Ariel Sharon from going there. If he had, the right would have killed him; the High Court of Justice would have forced his hand. Sharon went, and the Second Intifada began. Netanyahu is allowed to do what Barak wasn't.

Bayit Yehudi Chairman Naftali Bennett accepted the decree. He just made sure, and rightfully so, that it also applied to Arab MKs. Jamal Zahalka should be treated the same as Uri Ariel. "At this time, senior members on both sides need to avoid going to the Temple Mount in order to enable the situation to calm down," said Ayelet Shaked, a minister from Bayit Yehudi, like Bennett. "That's true for senior Jewish members, and even more so for Arab members."
A different story
The IDF held intense discussions recently, trying to understand the new reality. "It's clear to us that we're not in the same situation that we were in a week ago," said a military source. "We've had waves of violence before, which came and went. It's very possible that the current wave is a different story."

"Please explain," I asked.

"First of all, the background," he said. "Without digging into the conflict's deep roots, this year's High Holy Days created a special situation. I'll give you an example that wasn't in the headlines: Hebron's Cave of the Patriarchs has an exact division of prayer times for Jews and Muslims, from 10am to 10pm. On Yom Kippur Eve, we wanted to reschedule the prayer because of the fast. Eid al-Adha fell on the same day this year, and Muslims had demands of their own. Only coordination between the two sides prevented a crisis.

"Add to that the friction between Jews and Arabs on the ground," the source continued. "The fact that the case of the Duma attack (an arson attack in which several members of the Dawabsheh family, including 18-month-old Ali, were killed) is still unsolved is a big problem. Solving cases calms anger, abates rage. Notice how the arrests after the murder near Itamar has calmed parts of Israeli society and deepened the rage and suspicion among Palestinians.

"Add to that the reaction of Jewish settlers. Jewish violence toward Arabs is reaching levels we don't recall seeing in the past. Israelis have ripped out hundreds of olive trees belonging to Arabs, ruined houses, smashed cars. The violence motivates counter-violence. There are those who want us to open fire at every Palestinian teenager who throws a stone. We will, of course, put that order into effect against Israeli stone-throwers as well. With us, everyone is equal before the law. Based on the number of Jews throwing stones at Arabs this week, the IDF should have killed 200 Jews."

He was being sarcastic, of course. The IDF doesn't kill Jews.

"Add Fatah's behavior to that. In regular times, there are two or three protests in West Bank friction zones. Most of them have about 20 participants. The current wave has about 40 protests a day, a large portion of which become violent. They're attended by 200-400 people. Fatah is behind these.

"We're attentively following the changes inside the Fatah. So far, other than certain incidents where gunfire was involved – incidents which were taken care of quickly by the Palestinian Authority's bodies – Fatah has avoided moving into military activity. The protesters are told to arrive unarmed.

"Add to that the internal shocks in the Palestinian Authority. The enthusiasm that Abbas's speech ignited in the UN General Assembly quickly faded and added frustration to despair. When Abbas asks – merely asks – if he may not have make a mistake in his strategic line, Fatah people say, maybe he did make a mistake, maybe violence does help promote Palestinian interests.

"The security coordination with the PA is strained and being refashioned. There's still not an explosion, but there are cracks. This week, when there was a mass demonstration in the Ayosh junction between Ramallah and Beit El, we asked their security forces to stop the violent protests. They didn't comply. We can't disperse a protest against settler violence, they said. We waited for them to act for 14 hours. We had to take care of it with our own undercover troops.

"In 2000, Palestinian police pointed their guns at IDF soldiers. We're not in 2000. Not at all. But we're not where we were a week ago, and can't go back to where we were a week ago. Something basic has changed."

"We've called it a Third Intifada," I said. "The features recall the beginning of the first intifada, in 1987."

"We don't hurry to give names," he said, "names create consciousness.

"Most of the terrorist attacks now are inspired attacks. A teenage girl gets up in the morning and decides to be a shahida (martyr); an illegal resident, who up until this week had worked normally, suddenly decides to attack soldiers. We tend to ponder these things: The concern is that instead of calming the situation, we'll create the opposite effect."

"Our tendency at the moment is to try and preserve a conciliatory policy: Avoiding collective punishment as much as possible, keeping the differentiation between terrorists and violent protesters, and the public at large. Interrupting the course of events – giving every sector, every town, a policy that fits the situation in their place. We don't want the hundreds of protesters to turn into thousands, or tens of thousands. That's true regarding the effort to foil terror attacks by Jews as well. The idea is to maintain the separation between those involved in terror and the public.

"We're working to prevent Israelis from taking the law into their own hands. We've arrested 17 Israelis on suspicion involvement in terrorist activities. Some of them are still in custody, and we have more names. The Shin Bet has given warnings to dozens of activists. We embrace the settlements, but try to give them red lines at the same time."

"It's not acts of revenge that will soothe the Israeli public, but a decline in the number of violent events. The feeling of fear is there on both sides. It's fanned by social networks. In the First Intifada, people whose cars were pelted with stones would go on. Today, they report it on social media, and hundreds or thousands are partners to the experience. Even when we're not at war, the atmosphere is war-like.

"Despite the events, we're making a great effort to strengthen the Palestinian civil infrastructure. People blame us for giving them relief: It's not relief, it's fighting terrorism. Avoiding collective punishments contributes to quiet. Treating the populace with an iron fist increases terrorism.

"The Kiryat Gat terrorist was an illegal resident. There are 40,000 illegal residents in Israel. Now they'll pressure us to put a lockdown on Palestinian cities to prevent illegal residents exiting into Israel. That would be a mistake.

"When we need to apply pressure, we apply pressure. We didn't have a problem forcing our way into a Nablus hospital and arresting a member of a Hamas murder squad. When we wanted to catch a squad in east Binyamin, we shut down all of the roads in the area. It wasn't a punishment – it was anti-terrorism activity.

"We do everything we can to avoid mistakes. The Aida refugee camp in Bethlehem is right next to the Rachel's Tomb compound. We identified a leading agitator there, who encouraged stone-throwing and bombings. We shot him and missed. The bullet went 40 meters ahead and killed a 13-year-old boy. We had a mistake in Tulkarm: The use of live fire wasn't appropriate. Each case like that brings more violence."

Last week, a meeting between the heads of security forces in the West Bank and IDF commanders in the area took place. The meeting's protocols leaked – a reckless move that caused substantial damage to Israel's security and presented the Palestinians as collaborators. The question is what Israelis really want of the people in charge at the PA, to fight them or work with them, was reopened. The fear of betrayal is mutual, and justified on both sides.

"It's possible that you could still extinguish the fire," he said. "Not all is lost. But we need to remember that even if things calm down, sometime in the future the question of expectations will rise again. One of the heads of their security forces will get up and ask, what happens later? We don't have an answer to that."