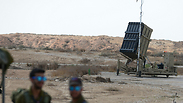 Iron Dome battery
Photo: Herzl Yosef
Code red sirens sounded at 11:06pm on Saturday in southern communities in Israel, after which residents heard explosions.

The IDF said one rocket was shot down by the Iron Dome anti-missile defense system.

Early Sunday morning, Israel Air Force aircraft struck targets in Gaza in response to the rocket fire. A woman and a child were reportedly killed.

The rocket fire occurred hours after a few dozen Gazans managed to break through the border fence. While the group managed to enter Israeli territory, police emphasized that security forces were in control the entire time.

The group reportedly scattered soon after crossing the border. Most of them quickly returned to the Gaza Strip, while a few who continued onwards were arrested.

Iron Dome was deployed in the south of the country on Saturday, covering the areas of Be'er Sheva and Ofakim after three rockets were fired from the Gaza Strip late Friday night.

Only one of the rockets made it across the border and into Israeli territory, but defense officials decided to deploy the Iron Dome batteries as a precaution in light of severe clashes with Palestinians along the border fence on Friday afternoon.