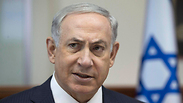 Benjamin Netanyahu at the weekly cabinet meeting.
Prime Minister Benjamin Netanyahu on Sunday called for a criminal inquiry to be opened against MK Haneen Zoabi on grounds of incitement, amid an ongoing wave of violence that has swept Israel.

Netanyahu also said that an additional session would be held on Sunday in order to discuss measures the government is taking against the Islamic Movement.

During the weekly cabinet meeting, Netanyahu quoted an interview Zoabi had given a Hamas publication.

"Hundreds of thousands of worshipers should be ascending to Al-Aqsa in order to fend off an Israeli plot to spill their blood. Lone terror must be turned into a real intifada," he quoted Zoabi.

Netanyahu emphasized that "it is wild and false incitement to call for violence and it will not pass unnoticed. I have asked the Attorney General to launch a criminal investigation against Haneen Zoabi."

"We are in the midst of a wave of terror that started with false incitement regarding the Temple Mount," the prime minsiter added.

Zoabi later issued a response, condemining Netanyahu's comments.

"I am disgusted by Netanyahu's wild incitement as well as that of the Right, which tries to crush everything in its path," she said. "These statements show moral and political bankruptcy."

"Over the last few days there has been no difference between Netanyahu and the hooligans of the extreme Right," Zoabi continued. "I am not intimidated by threats like this and I will continue the struggle for freedom and equality for all."

Zoabi also called on Netanyahu to endangering the lives of Arab citizens by allowing police officers to use live fire and accused him of turning a nationalistic conflict into a street fight.

Also during the cabinet meeting, Netanyahu discussed additional steps the government is taking to try and tackle the wave of terror. "At the end of last week I ordered the call-up of 16 units of Border Police reservists. We will call up more as the situation demands," he said.

"Today there will also be an additional session in order to discuss the measures the government is taking against the Islamic Movement. We will not tolerate internal incitement and use all tools at our disposal to fight it," he continued.

Earlier on Sunday, Bayit Yehudi party leader Naftali Bennett told Ynet that he is opposed to Benjamin Netanyahu's call to broaden the government coalition, by bringing in centirst and left-of-center parties.

"The fundamental outlook of the government does not include a Palestinian state," Bennett said.

"If (Labor leader Isaac) Herzog is prepared to adopt this outlook then he is welcome to join the government," Bennett continued. "If he would alter this clause in any way then we will not spend another second in government."

The weekly cabinet meeting opened against the backdrop of another day of terror. A failed car bomb attack took place on Sunday morning, when a female resident of East Jerusalem drove up to a checkpoint near Ma'ale Adumim and detonated an explosive device when stopped by police.

The policeman was lightly wounded in the attack, while the terrorist sustained serious injuries.

Overnight, the Israeli Air Force attacked the Gaza Strip in response to rocket fire towards Israel. The IDF reports that two Hamas targets were hit, specifically weapons-making facilities. Medical sources in Gaza reported that a Palestinian woman and her daughter were killed in one of the strikes.