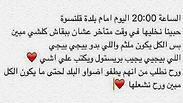 Facebook post inciting riotingin Qalansuwa
Arab incitement is alive and well on social network sites, as organizers call on people to arrive "masked, to set the area on fire." Other sites even advised would-be terrorists on where to go and how to stab the "occupying troops".

On Facebook, one can find posts calling on social media users to join the disturbances: "For al-Aqsa and the martyrs, you are invited to participate in a demonstration of anger at the Bridge of Tayibe"; "Every young person who doesn't go has no honor"; "At 8pm at the entrance to Qalansuwa, come masked. This has deliberately been organized at a late hour so that they won't be able to identify us. We will ask them to turn off the city lights so we won't be identifiable, we will set the area on fire"; "All together at the big demonstration in Nazareth. Don't forget that after that we will head towards the main road as they want to block it."

Several posts referenced the shooting of Israa Abed of Nazareth after she tried to stab a soldier in Afula's central bus station. "We will not be silent. Where are you residents of Nazareth? Tomorrow this will happen again. We must respond. Even as it is the situation is a big mess, this silence is a disgrace. We will die with dignity and for you, Israa."

"We demand that our young people arrive at the Shuafat camp so thousands attack the crossing," read another post by East Jerusalem residents. Others suggested methods for potential terrorists: "To the heroes of knives who intend to strike at the occupying soldiers: Anoint the knives with a poisonous substance – thus you will cause an infection in the victim and they won't be able to stitch the wound. Spread this knowledge."

Yet another post said: "Friends, today we can all reach the main entrance to Issawiya. We'll separate into groups and struggle against the police. We will not let them dominate. We have to break them apart."

Some posts explicitly mentioned hurting Jews: "Check vehicles very carefully. Attack any Jew who passes. We don't want to see them."

On Sunday morning, hundreds of high school students from Sakhnin demonstrated on the city's main road. Many also used Facebook to urge a student strike.

On Saturday, an Acre resident was arrested after posting on Facebook that she wanted to die as a martyr. She was released on Sunday.

Also Saturday, hundreds of masked people gathered in Nazareth, Kafr Manda, Kafr Qasem, Umm al-Fahm, Kafr Qara, Ramle, Jaljulya, Tira, Kafr Kanna and other locations. They blocked roads, burned tires and set fire to trash cans. They also threw stones and fireworks at police who tried to disperse them with tear gas and stun grenades. Police arrested dozens of young men on suspicion of causing disturbances.