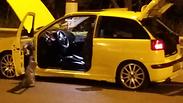 The assailant's vehicle
Photo: George Ginsburg
Four Israelis, including two soldiers, were attacked on Sunday evening near Gan Shmuel, next to Hadera. One of the victims was seriously wounded.
Follow Ynetnews on Facebook and Twitter
The 20-year-old terrorist from Umm al-Fahm used his car to run over the two soldiers waiting at the bus stop. He then got out and stabbed the 19-year-old female soldier, critically wounding her, as well as a 15-year-old and a 45-year-old. The second soldier, aged 20, was also wounded.
The mother of the 15-year-old was celebrating her birthday on Sunday and was on her way to an extracurricular class.
The assailant was captured by security forces and citizens and was not wounded. Police initially suspected that an accomplice may have been involved, but ultimately ruled this out.
Benayahu Erezi, who was among the civilians who happened to be in the area and helped capture the terrorist, said that some of those present wanted to kill the assailant. "There was someone who brought a rock and wanted to stone him," said Erezi. "A man aged around 70 brought a gun and wanted to shoot him, but was prevented."
The site of the attack was a large shopping center near the kibbutz of Gan Shmuel. The location draws thousands of shoppers every evening. It is located on Highway 65, on which Arab towns in Wadi Ara are located.

The stabbings occurred on the same day that a Palestinian driver detonated what turned out to be a gas canister at a checkpoint in the West Bank Sunday morning, lightly wounding a police officer who pulled her over.

The terrorist herself, a 31-year-old resident of East Jerusalem, was severely wounded, said MDA. Police said she was on her way to Jerusalem to carry out a bombing.