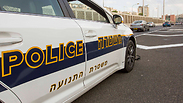 Some say police patrols would be more effective
Due to an ongoing wave of terror attacks, Kiryat Bialik Mayor Eli Dukorsky on Sunday instructed city policemen and inspectors to check the natonal ID cards of workers in the city's construction sites, as well as search for illegal residents.

In recent days, Kiryat Bialik residents have petitioned Dukorsky to increase security by construction sites. The mayor answered, announcing Sunday through his Facebook page that he has given city inspectors and police officers instructions to increase patrols near construction sites, as well as checking the IDs of workers.

"Following my instructions, the city police force and inspectors are conducting increased patrols around city construction sites, including checking workers' IDs at the sites and the presence of Illegal residents," wrote Dukorsky.

"Taking extra care, we have also increased the presence and patrols around education institutes in the Kirya," he added. "Keep showing awareness and keep conducting your lives as usual. We are the masters of this land."

The post received hundreds of "likes" and enthusiastic comments by city residents. "I praise our mayor," wrote one resident. "I think this is a responsible action worthy of appreciation. Our security and the security of our children are more important than anything else."

But there were also some who expressed discomfort with the decision. "This move does not increase my sense of security," wrote another resident. "I think this will just create bitterness among my neighbors and could cause an escalation . . . If you check IDs, then check everyone's IDs. I think this is a very populist step. If you want to increase the feeling of security, you can add police cars to patrol the city and around city sites."