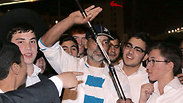 Yair Ben Shabat helped overpower terrorists with his nunchucks
Photo: Motti Kimchi
A terrorist attempted to snatch a soldier's weapon on a Jerusalem bus on Monday evening before another passenger tried to overpower him; the 22-year-old Muhammad Shmasanah, from the village of Katana in the West Bank, was ultimately shot dead by police.
Shortly after 8:30pm, reports emerged of a Palestinian who tried to snatch a soldier's gun on a 185 line bus in Jerusalem. The incident occurred next to the Chords Bridge at the entrance to the capital.
A large number of security forces arrived at the scene, and it soon became clear that the terrorist had been killed by police fire.
The assailant's attempt to steal the soldier's weapon failed.
According to police, Shmasanah went to the back of the bus when he boarded and sat next to a soldier. He then stabbed him with a knife and attempted to snatch the soldier's weapon.
A policeman on the bus ran towards the altercation and tried to pin the attacker to the floor.
Passengers urged the driver to stop and open the doors so they could get off, while simultaneously notifying police. The policeman and two civilian passengers fought off the assailant, who constantly tried to snatch the soldier's weapon, said police.
Meanwhile, a nearby police team boarded the bus. As law enforcement tried to overpower the terrorist, a police officer's weapon apparently fell to the floor. Shmasanah managed to grab it and tried to cock it.
An officer noticed that Shmasanah had a weapon and shot him dead.
The soldier was taken to a hospital and was reported to be in light-to-moderate condition.
Yair Ben Shabat, a passerby who helped overpower the terrorist, recounted the incident: "I jumped onto the bus and helped them fight the terrorist. I took nunchucks out and hit him where I had to for them to be able to pry loose the weapon he held."
The attack came on the same day as three stabbing attacks in Jerusalem.
Elior Levy contributed to this report.