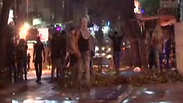 Thousands of Israeli Arabs took part in a mass protest in Sakhnin in solidarity with the fight against what they termed "Israel's al-Aqsa policy."

Protesters waved Palestinian flags and called out "we'll sacrifice our lives for Palestine and al-Aqsa."

The protest was organized by the High Follow-Up Committee for Arab Citizens of Israel as part of a general strike in the Arab sector on Tuesday that included schools, public institutions and businesses in Arab municipalities.

Young Arabs from nothern Israel who spoke to Ynet threatened to continue protesting, blocking roads and burning tires "until al-Aqsa mosque is liberated."

A masked youth taking part in clashes told Ynet: "The cops are shooting innocent people, like Asra Zidan Tawfiq Abed, who was shot in Afula; Fadi Alloun, who was shot in Jerusalem; and the girl who was shot this afternoon. We're being treated like ISIS. Israel is the terror state."

As for business owners in mixed cities, Acre's merchants' council representative, Hani Asadi, told Ynet: "We respect the Follow-Up Committee's decision (to strike) but business owners are not forced to close their stores. Each business owner makes his or her own decision."

There's an initiative on Facebook for Jews planning to boycott Arab businesses.

"It was posted by inciters who are just trying to ruin the relations between Arabs and Jews. We live with Jews in the old city and drink coffee together every day without any problems. The radicals are trying to ignite the atmosphere. With this racist move, they are just showing how stupid they are. They won't deter us because we answer to no one but God. We all hope this wave passes and tourism and safety return and that there will be calm."

On the opposing side is journalist Shahin Nassar from Haifa, who claims that many Arab business owners in the city are worried about the threat of boycott.

"A large portion of their clientele are Jewish residents," said Nassar. "Just like every other time there are tensions over the security situation, there are calls for sanctions against Arab residents. Some of the business owners received threats of sanctions if they participate in the strike. This is pure racism. Every person has the right to his political opinions and these threats endanger the very democracy Israel boasts of. The business owners want the police to investigate and find those responsible for these threats."

In neighboring Jordan, several universities suspended regular studies in favor of solidarity rallies.

Meanwhile, in light of the five attacks perpetrated by Palestinian terrorists on Tuesday, a right-wing rally in front of the Prime Minister's house scheduled for Tuesday evening was cancelled.

The rally was supposed to be the culmination of the protests that began immediately after the funeral of Eitam and Na'ama Henkin, who were murdered in a drive-by shooting attack on the road between Itamar and Elon Moreh in the West Bank on October 1.

Since the murder of the Henkins, the heads of the West Bank's regional councils have been protesting outside the Prime Minister's residence in a tent set up by Yossi Dagan, head of the Samaria Regional Council.

Dagan said that until the government meets his demands - which, among others things, include allowing construction in West Bank settlements - he will not leave the protest tent.