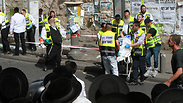 Stabbing and run-over attack in Jerusalem.
Israeli security forces began sealing off East Jerusalem on Wednesday in an attempt to quell violence, as the wave of terror sweeping over the country reached new highs the previous day when five terror attacks claimed the lives of three people and left some 20 wounded.

Police started setting up checkpoints at the entrances to Arab neighborhoods in East Jerusalem.

Several of the entrances to Jabel Mukaber, the neighborhood from which hailed three of Tuesday's terrorists, have already been sealed off - with neither people nor vehicles allowed in or out.

Much of the violence since the start of October has been carried out by residents of East Jerusalem, the predominantly Arab side of the city.

The IDF, meanwhile, deployed hundreds of troops to assist police forces in securing Israeli cities. So far, some 300 soldiers have been teamed up with police forces and deployed for security assignments across the country under police command.

The troops belong to non-combat units, such as military police, Home Front Command soldiers, and soldiers undergoing different military courses. They will be stationed in crowded areas at city centers to increase civilians' sense of security.

In addition, the IDF reinforced the Judea and Samaria Division with two additional battalions. Three reinforcement companies were redeployed to the Seam Zone - an area between the Green Line and Israel's separation barrier in the West Bank. Two battalions in Gaza were redeployed to the border fence amid attempts of Palestinians to infiltrate Israel, and rioting at the crossings.

The Knesset's Foreign Affairs and Defense Committee will meet on Wednesday to discuss drafting 1,400 Border Police reservists.

At a meeting of the Security Cabinet that finished in the early hours, Prime Minister Benjamin Netanyahu also allowed revocation of residency rights of Palestinians deemed to have committed "terrorism" and a step-up in the demolition of homes of people who carry out attacks.

The Security Cabinet approved on Tuesday night a proposal by Transportation Minister Yisrael Katz to place additional security for public transportation in Jerusalem. Soldiers will be used at first, until sufficient numbers of security guards can be trained.

The Cabinet also decided to issue scores of restraining orders to bar chief Arab agitators from the Temple Mount. Ministers also approved the administrative detention of a number of main agitators.

Another decision was to strip residency rights and demolish homes of some attackers and draft hundreds more security guards to secure public transport.

Additionally, the Cabinet approved a proposal by Public Security Minister Gilad Erdan not to return the bodies of terrorists killed during attacks to their families.

"The terrorist's family turns their funeral to a rally of support in terrorism and incitement to murder, and we must not allow that," Erdan said.

Erdan also approved measures that would make it easier to obtain firearm licenses.

"In recent weeks, many civilians aided the Israel Police in neutralizing terrorists committing attacks. Civilians trained in the use of firearms could double the power in the fight against terrorism," Erdan said.

Meanwhile, settler leaders in the West Bank decided not to wait on the government's actions and barred the entry of Palestinian workers into their regional councils.

The decision was first made in Kiryat Arba at the beginning of the week, and followed by the Har Hevron Regional Council, after stones and Molotov cocktails were hurled at Israeli vehicles in its territory.

Next were regional councils in the Samaria region, where Har Brakha and Kedumim barred the entry of Arabs into their areas. Other areas that followed were Gush Etzion, Efrat, Ariel, Ma'ale Adumim and Beitar Illit.

Seven Israelis and 30 Palestinians, including children and attackers, have died in two weeks of violence including stabbings, shootings, car rammings and security crackdowns that have stirred memories of past Palestinian uprisings.

The causes of the turmoil are multiple, but Palestinians are angry about what they see as increased Jewish encroachment on the Al-Aqsa mosque compound in Jerusalem's Old City, an area that is holy to both Muslims and Jews.

There is also deep-seated frustration with the failure of years of peace efforts to deliver meaningful change, with the Palestinians no closer to statehood and no end to Israeli settlement building in the West Bank and East Jerusalem.

Yisrael Beytenu leader Avigdor Lieberman, talking to Ynet on Tuesday, called for a "military government along the '67 borders to be established in East Jerusalem and also around 'The Triangle' if there are further riots," referring to a concentration of Israeli Arab towns and villages adjacent to the Green Line, located in the eastern Sharon plain among the Samarian foothills.

"No terrorist should come out of an attack alive," said Lieberman. "Adopt the American rules of engagement and revoke the status of any East Jerusalem resident involved in terror," he continued.

"Emergency regulations and military rule should be instituted," he added.

Lieberman also proposed a curfew on East Jerusalem and further called for, if necessary, "military rule over some of the villages along the '67 lines.

"Both Ramallah and Gaza are behind the incitement appearing through Palestinian media and social media," Lieberman added.

Jerusalem Mayor Nir Barkat, speaking at the scene of Tuesday morning's attacks, also called for a curfew on East Jerusalem.

"You will soon hear about drastic measures that have not been seen until now," Barkat declared. "They will be coordinated with the Shin Bet and the police," he added.

"While calling on the government and security forces to sharpen its measures, we also call on residents not to take the law into their own hands," Barkat continued.

"Security forces must be allowed to carry out their functions," he said.

Noam (Dabul) Dvir, Roi Yanovsky, Omri Efraim, Elisha Ben-Kimon, Attila Somfalvi and Reuters contributed to this report.