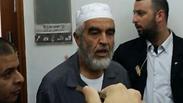 Raed Salah. (Photo: Yael Freidson)
The head of the northern branch of the Islamic Movement in Israel was defiant on Wednesday morning when he arrived at a Jerusalem court in the wake of his conviction for incitement to violence and racism.

"In spirit and blood, we will defend al-Aqsa mosque," Raed Salah, a high profile Israeli Arab cleric and stringent critic of the Jewish state, declared.

Salah arrived at a hearing at the Jerusalem District Court accompanied by several Arab MKs, including Joint List leader Ayman Odeh, Ahmad Tibi, and Haneen Zoabi, as well as former MK Mohammad Barakeh. He added that "We aren't afraid of prison. We will continue on our way to defend Jerusalem and al-Aqsa mosque."

Last march, Salah was sentenced to 11 months in prison. During the current wave of terrorism, the government has begun taking steps to outlaw the Islamic Movement, saying it is a chief cause of the incitement that has led to this series of attacks.

Judge Rafi Carmel rejected Salah's request to delay the hearing, citing to security concerns. Salah's attorney, Avigdor Feldman, claimed that Salah's sermons are metaphorical and complex, and do not constitute incitement any more than calls of "death to Arabs," which are often made by right-wingers.

Prosecutor Uri Korev emphasized that Salah is a serial ideological defendant and that he hasn't apologized or expressed regret for his sayings. Feldman interrupted him angrily, saying, "You claim he's been inciting all his life. You're inciting."

Salah was initially given a sentence of eight months, but prosecutors appealed the decision, and in March it was increased to 11 months. He was convicted of inciting during a sermon he gave at a Friday prayer near Jerusalem's Old City in 2007.

In the sermon, Salah called for an Islamic intifada, saying, "We never allowed ourselves to knead the bread of the fast-breaking meal in the month of blessed Ramadan with the blood of the children. And those who want a wider explanation should ask what would happen to some of the children of Europe, whose blood would be mixed in the holy bread."