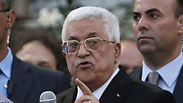 Mahmoud Abbas. The root of evil in the latest flare-up
Photo: AFP
If this didn't have to do with real tragedies of Israelis murdered in the recent wave of terror, I would have begun this short article by describing Palestinian Authority Chairman Mahmous Abbas as "a tragic figure."

This man could have entered the books of history as the final peace maker between Israel and the Palestinians, or alternatively as a man of war trying to drive the Israelis away from their dreamland.

Spreading Lies

Elior Levy, Atilla Somfalvi

PA chairman's speech decries 'execution' of teen terrorist who is being treated in Israeli hospital, refrains from condemning attacks on Israelis.

But the man who represents the Palestinian people is travelling around the world, visiting influential people, noblemen and kings, running around the most luxurious places in the universe, and we still don't know what he wants. Who does he support? What does he support? Does he want the current situation to continue? Does he support the terror of knives? Is he against it?

In the meantime, he only knows how to open his mouth and speak, and growl, his mouth producing lies. And he, as an educated person, knows they are lies. And yet he accuses the Israelis of thousands of baseless accusations, without hesitation.

He won't let the facts get in his way: In his poisonous speech Wednesday, he accused the Israelis of 'murdering the 13-year-old boy,' although the cell phone videos prove the Palestinian teen's guilt and bad intentions, and although we know very well that he is alive and being treated in an Israeli hospital.

Abbas, who was born in Safed, is deceiving us all. One time he supports peace. The other time he supports terror. He is the master of winking, what we call two-faced. In the morning he says one thing, and in the evening he says the opposite.

He could have brought all the terrorists home and prevented them from acting against Israel. But he decided to skip all the clauses or basically to have it both ways.

He is both in favor and against and in favor of the against. A weak leader, at the end of his term, too old to bequeath to his young successors a calm and thriving land, even if it is not the fulfillment of his dreams and the dreams of millions of Palestinians in the territories, in Arab countries and in the world.

Abbas is the root of evil in the latest affair which has been flaring up here these days, and he is the one we can base all our accusations on. Today we are doing just that joyfully and out of a sense of disappointment, on the verge of despair.