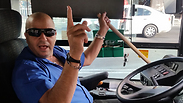 Ready to defend himself
Photo: Eli Mendelbaum
Many of the terror attacks over the past two weeks were aimed at passengers using public transportation, which in turn resulted in almost empty buses on Wednesday and Thursday.

Bus line 480 from Tel Aviv to Jerusalem - which is usually overcrowded during the morning rush hour - only had eight passengers on board at 8:30am Thursday. Meanwhile, there were only 18 passengers on bus line 448 from Ashdod to the capital, and only 15 on line 420 from Beit Shemesh to Jerusalem.

The driver of bus 1, which services the Western Wall, was photographed holding onto the wheel with one hand, and a wooden stick in the other. "Considering the amount of incidents, my chances of encountering a terrorist is particularly high," he explained.

"Unfortunately, in light of the current wave (of terrorism), there's a real decline in the number of people using public transportation," Ron Ratner, the spokesman of the Egged bus company, told Ynet.

"In the greater Jerusalem area there is a decline of 30 percent or more, mostly during dark time. It's as if the city is at a standstill and those who don't have to leave the house for work or school choose to stay indoors. This is a relatively 'light' wave (of terrorism), but if it continues - there is no doubt the introduction of security guards in places like Wadi Ara and the Galilee area can give passengers and drivers a sense of security and bring them back."

It wasn't very hard to find a spot to sit on line 78 in East Talpiot on Wednesday, where the day before two people were murdered and many others wounded when two terrorists boarded the bus with a gun and a knife.

Alexi, who lives in the neighborhood, was supposed to take the bus on Tuesday, right around the time the attack happened. "It was a miracle that I didn't leave the house," she said.

Yael Yehoshua, who was waiting in a bus stop near the market, told Ynet that she lost her sister in a terror attack 13 years ago. Now, she says, "I'm shaking with fear."

Normally, Jerusalem's Light Rail is overcrowded with passengers. But on Wednesday, there were far fewer people.

"It's sad and frightening," said Kochava from Ma'ale Adumim. "I avoid unnecessary travel until it's calm again."

Taxi drivers, meanwhile, are thriving. "The phone won't stop ringing," one of them said. "And every other phone call seeks to make sure the driver is Jewish."

Earlier this week, the Security Cabinet approved the transportation minister's recommendation to recruit security for public transport in Jerusalem. Until these security guards are recruited and trained, IDF soldiers will fill in their place.

The tensions over the current wave of terror were acutely felt on Thursday morning when several soldiers who saw a man who appeared suspicious on a southbound train from Haifa's HaShmona Railway station called out "Terrorist!" leading passengers to pull on the emergency break.

An IDF officer who was on the train tried to use his M-16 weapon - which he only received the previous day in light of the security situation - to no avail. He then instructed passengers to pull on the emergency break and stop the train.

After the train stopped, and the officer disembarked, he fired a single bullet into the air. He later explained to police that he wanted to make sure his weapon was working.

Thirteen passengers were lightly bruised from the train's emergency stop, and several others suffered from shock. They were taken to the Rambam Medical Center and the Bnai-Zion Hospital in Haifa.

On Wednesday afternoon, a stabbing attack was thwarted at the Old City's Damascus Gate. Border Policemen who noticed a young man wearing camouflage clothing approached him, and when they came near, he drew out a knife and jumped them. The officers fired at him, and he changed course and ran towards other officers, who also opened fire and killed him.

Later that day, Jerusalem's Central Bus station was added to the list of hotspots for terror attacks when a terrorist stabbed a 65-year-old woman. She was light-to-moderately wounded. The terrorist later tried to board an Egged bus, but a counterterrorism police officer who arrived at the scene noticed him and shot him to death.

Yael Friedson, Roi Yanovsky, Yaron Druckman, Ahiya Raved and Hillel Possek contributed to this report.