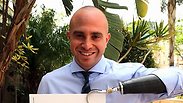 Ziv Shilon. (Photo: Yariv Katz)
Three years after he was critically wounded and lost his left hand in a terrorist attack at the Gaza border, Captain Ziv Shilon celebrated the birth of his daughter on Wednesday. His wife, Adi, gave birth at Soroka Medical Center in Be'er Sheva.

When Shilon was wounded he received treatment at Soroka, which gave him and the hospital staff a feeling of closure. "We remember the difficult incident and Ziv's long stay in hospital" they said, "Now we got an opportunity, as a team, to bring his daughter out into the world."

In a Facebook post, Shilon wrote, "There are no words to describe the joy, the excitement, and the power. Especially in these times, in the most symbolic way, we completed the biggest victory possible! So thank you: To my hero wife, to god, and most of all to my dear friends who put their bodies at risk and make it possible for us to raise our children in the holy land!"

"This is the first time I've experienced this level of emotion," Shilon admitted. "The birth came a week before the three-year anniversary of my injury. My wife was a great hero and conducted herself in an exemplary way. I couldn't have gone through this whole process without her. May we only know good times, raise them pleasantly and without worry. I will teach my daughter values of love, giving, and loving others. I hope I'm successful.

"Three years ago I was lying here, on my deathbed, not far from the delivery room. Today I stand here after (running the) Berlin marathon, giving talks about my life story all over the world. My biggest victory came today. My wife and my little nest received a significant spot of light that gives us a lot of strength for the future. The gift I got today gave me a different perspective."