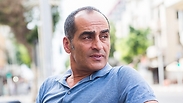 Navid Negahban (Photo: Tal Shahar)
Hollywood actor Navid Negahban is standing in line, patiently waiting for a table at the small Persian restaurant, "Salimi," in the Nachalat Binyamin neighborhood of Tel Aviv. He doesn't make a big deal out of the fact that he acted in hit TV shows "24" and "Homeland" (in which he played Abu Nazir, senior al-Qaeda terrorist) and doesn't ask to jump the line.
"This place reminds me of Mashhad, my hometown," said Negabhan. "I grew up in a merchant area like Nahalat Binyamin."
Slip Up
Artists hired to spray background graffiti on set manage to slip in message confronting the show's 'racist' nature.
He added: "Los Angeles has many Persian restaurants, but not like this one, folksy and warm. This is my fourth time in Israel, and I feel at home here. When we shot the second season of 'Homeland' at the flea market in Jaffa, once the merchants discovered that I was born in Iran, they came out and invited me to visit their stores. They gave me tea and showed me pictures and items they had brought from Iran."
Negahban arrived in Israel this week for the premiere of his film 'Baba Joon'," which won five Ophir Awards ("the Israeli Oscars"), including best film, and has been selected as Israel's submission in the foreign language category for the 88th Academy Awards.
"I really did not hesitate whether or not to come to the premiere due to the security situation," said Negahban. "I'm not afraid. Do not forget that I grew up during the Islamic Revolution in Iran and lost friends in the Iraq-Iran War. I am glad to have come for the premiere. I am happy that the film won, and I wanted to celebrate the win together with the whole group. There is also no difference between me and you. You live here, and walk around, I can do the same."
"Baba Joon", written and directed by Yuval Delshad, takes place in a southern moshav where immigrants from Iran live.
Negahban plays a turkey breeder who requires his only son to learn the farm business and continue the family legacy.
But the son envisions a different future. "One of the reasons that I fell in love with the script is that it talks about respect and acceptance," indicates Negahban. "It is impossible to force one's opinions and desires on someone else."
How was filming in the Negev?
"Interesting but difficult, especially since the budget was miniscule. We filmed at the height of Operation Protective Edge. The day after I left Israel, they closed the airport. I was not afraid of the war in Gaza, but it brought back childhood memories that I didn't want to recall."
Does your Hebrew improve with each visit?
"My Israeli actor friend Herzl Tobi helped me ahead of filming. How's my Hebrew in the film"?
Fine.
"I still do not know how to speak, and get confused between masculine and feminine, but I understand a few words and can say a sentence like, 'You smell really good'. The women in Tel Aviv are just great. Unbelievable. Their beauty is especially on the inside, from their eyes. They simply mesmerize me."
Negahban, 47, a charming and charismatic divorcé, raises his only daughter and splits his time between Los Angeles, New-York and Berlin. He was born in Mashhad, one of the most religious cities of Iran. He spent his childhood during the rule of the Shah. His father was a bank manager, and his mother, who passed away, was a teacher and director. "It is clear that our lives were changed because of the revolution," recounts Negahban. "That's why it's called a revolution,"
A few years later, in the early 1980s, Negahban left his homeland to fulfill his childhood dream of becoming an actor, and initially settled in Germany. "My family was against my move and my father said that I would definitely return within six months," he said. "But I clung to my dream. I worked odd jobs – cleaned offices, toilets and cars, worked in gardening, just to survive."
Negahban began to make a living just from acting in 2000, and of course his role as the arch-terrorist Abu Nazir in the early and highy-acclaimed seasons of Homeland opened up many doors for him.
"Once nobody knew who I was," he said. "They just recognized my face. Suddenly people know my name. It made me world-famous. By the way, I do not only play terrorists. I've played Russians and Italians, doctors and shopowners."
His father, sister and brother still live in Iran. "The last time I visited them was in 2005. Iran was different from what I remembered from my childhood or from previous visits. I can always visit Iran, the only question is whether or not I can return from there," he laughs sadly. "I always dreamed of being successful someday and sharing my success with the people I love, and now most of those people are no longer alive. When people ask me if I miss Iran, I say I carry my home in my heart, I take it wherever I go."
What is your position on the controversial nuclear deal?
"I do not know. Because I'm not so knowledegeable on the subject, it's hard for me to express an opinion. I can only hope the day will come when all countries will come closer together and that they will understand each other. We are all human, and the soul that is inside me and inside you has no agenda, religion or nationality. The problem is the governments - instead of doing their job and serving the people, the people are those who serve the government, and become their slaves."
Negahban does not like the politicization of "Baba Joon". "I oppose attempts to tag it with sentences like: 'A Persian-speaking Israeli film goes to the Oscars, and do not like people asking me,' How does an Iranian actor feel to be at the Oscars with an Israeli film? The purity of the film is what should attract one's attention."
What are the chances of 'Baba Joon' being one of the final five Oscar nominees or winning?
"I cannot guess or predict, but this is the kind of movie that nobody has seen yet, a film you leave saying, That is my life. To me, winning awards is not important. What is important is that after the screening at Toronto people from around the world came up to me and said, 'That's my story!"
"Baba Joon" will be released this weekend in Israel.