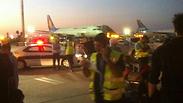 Israelis refused to board a non-Israeli flight.
Israeli passengers at Ben Gurion Airport allegedly attacked the crew of their flight to Paris on Thursday when they saw that a Czech airplane leased from a Czech airline (Travel Service) would be making the journey instead of Arkia, an Israeli airline.

Despite the two Arkia flight attendants on the plane, police were called to the airport after receiving reports of passenger violence against the Czech flight team.

The travelers refused to board the plane because of the current security situation, saying that they would only agree to board with an Israeli team. According to the Czech flight crew, the passengers attacked and swore at them.

"I paid to fly with an Israeli company and I won't have Czechs flying me," said Yossi, one of the passengers. "I can only feel safe flying with an Israeli company."

Following the arrival of the police most travelers relented, but some still refused to board the flight.

Arkia, for its part, was puzzled at the passengers' hysteria. A statement from the company said, "The Czech airline is one of the biggest and most reliable airlines in Europe and leases aircraft to several Israeli companies. They also operate regular flights between Israel and Europe."

Daniela, a passenger who witnessed the confrontation, said that dozens of travelers started to curse at and attack the Czech team.

"There was a big commotion and they called the police because there were beatings going on," she said. "The flight was already an hour late and it was terrible. There was a violent passenger who inflamed the situation."

"We are astounded at the exaggerated response from some of the passengers," said Arkia's statement. "We wish a pleasant flight to those who are now on their way."