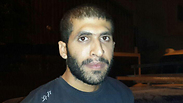 Israeli Arab cleared of suspecion of being terrorist mulls lawsuit
Yahiya Masaruwa was arrested with knives, scissors and an Islamic Movement flag in his car, but after being interrogated, suspicions against him were cleared and he was released; 'They handcuffed me and started beating me and swearing at me,' he says.
The tense atmosphere and suspicion in light of the ongoing wave of violence can at times claim innocent victims, which is exactly what happened to Yahiya Masaruwa from Tira.

He was arrested early Thursday morning in Beit Dagan after police found knives, scissors and an Islamic Movement flag in his car, which raised the suspicion he was planning an attack.

Masaruwa was detained and questioned. He explained to interrogators that he was using the tools for his work and after several stressful hours, was released.

"I was visiting my brother in prison, and when I returned, a man I didn't know asked me to stop. There was nothing to indicate that he was a policeman, but in the end it turns out that he belonged to the police. He asked me to get out of the car (and wait) until the Border Police arrived. They handcuffed me and started beating me and swearing at me. They searched my vehicle and one of them raised his weapon and told me, 'If you make any movement at all I'll either shoot you in the leg or the head.' At that moment I didn't say anything as I was afraid they would hurt me even more."

Masaruwa was then taken to the police station for questioning.

"They tied me to police assault, running down people, disturbing traffic, and planning to carry out an attack by knives and sticks," Masaruwa said. "At the end of the interrogation, it became clear that it was all much ado about nothing and a few hours later I was released."

Masaruwa has no intention of remaining quiet about his arrest. "I was very scared. I didn't know what they wanted from me and why I was being arrested. I work for a living and everyone respects me. I've never thought of hurting others or carrying out terror attacks. I did not expect to experience something like this," he said.

"Because of the arrest, I can't go back to work because everyone is looking at me like I'm a dangerous, suspicious man," he continued. "It caused damage to my reputation and to my livelihood and I'm considering filing a lawsuit. This situation, in which every Arab is turned into a terrorist, cannot continue. It is time to calm the tensions down and put an end to violence and racism, because it is us Arab citizens who pay the price."

A Border Police spokesman said he was not familiar with Masaruwa's case. Central District Police said in response: "This is an Israeli Arab who was looked into, similar to many others in recent days. He was cleared of suspicion and released after a short time."

In a similar incident on Wednesday, two East Jerusalem residents were arrested in Givatayim, near Tel Aviv, after a manhunt for them in the area. They were detained and questioned, and were released after suspicions against them were cleared.