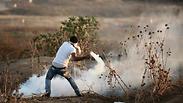 Three Palestinians were killed in clashes with Israeli security forces Friday in violence that erupted along the Gaza border and in the West Bank, according to Palestinian reports.

Medical sources in Gaza claimed that two Palestinians were killed by live fire from IDF soldiers while another 126 were wounded during the violence on the Gaza border in the north of the Strip.

The third death, near Nablus in the West Bank, was reported by Palestinian media just after 6pm.

According to the sources in Gaza, one of the killed Palestinians was shot in the head and at least 11 others were wounded by live fire. The rest were said to have inhaled smoke and tear gas.

From across the border, the IDF said the Palestinian claims were under investigation while confirming that troops had fired at the lower bodies of some 15 "central inciters" with the intention of pushing them back from the fence.

Several young Palestinians also challenged IDF forces on the border fence just opposite the Israeli town of Nahal Oz. Soldiers responded with rubber bullets and tear gas.

Comparably minor clashes broke out at several additional locations along the border on Friday, which was previously designated as a "Day of Rage" by Hamas, the militant rulers of the Gaza Strip.

Several Palestinians were killed and over 100 were wounded in similar confrontations on the border just one week ago - also apparently organized by Hamas and Islamic Jihad. Dozens were able to break through the fence during the incident, but were returned across the border to Gaza.

The "Day of Rage" could also be felt in the West Bank on Friday when Joseph's Tomb was set ablaze by rioters and a Palestinian stabbed and moderately wounded a soldier, adding to a wave of recent attacks and rioting in anger over Israel's alleged change of policy on the Temple Mount.

Israeli officials, however, deny claims that the status quo has been changed and say that Muslims will continue to be allowed to pray on the Temple Mount and in the al-Aqsa Mosque while Jews will be allowed to visit the compound, but not to pray there.

Unrest continued throughout the Day on Friday with ongoing clashes in Bethlehem and other sites, though no specific casualties were reported.