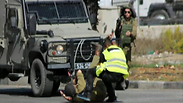 The Foreign Press Association (FPA) in Israel harshly condemned an attack near Nablus Friday during which a Palestinian dressed as a member of the media stabbed and moderately wounded an Israeli soldier.

"The FPA utterly deplore this violation of press privilege and call on local Palestinian media organizations to immediately verify all media credentials to ensure there are no violations," the organization said in an official statement.

The attacker was killed by IDF troops during the incident on Friday and was found dressed as a cameraman, carrying equipment and wearing clothing labeled "press."

While condemning the attack, however, the FPA also accused Israel's security forces of misconduct in dealing with foreign journalists covering the recent wave of violence and attacks in the West Bank and East Jerusalem.

"Notwithstanding the current stress and tension in Jerusalem, the FPA finds the violent behavior by security forces toward foreign journalists absolutely inexcusable and abhorrent," read the statement. "We call on them to identify any misconduct on the part of the personnel, and issue clear instructions to commanders about allowing journalists to work freely."

While the statement did not cite any specific incident, a video emerged some three weeks ago showing a group of soldiers attacking an AFP photographer and destroying his camera in the West Bank village of Beit Furik.

The commanders involved in the incident were later removed from duty as punishment for misconduct.