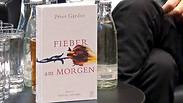 FRANKFURT - Diagnosed with lung disease and given six months to live, Hungarian Holocaust survivor Miklos Gardos was determined to find love in the short time the doctors said he had left.

Taken to a Swedish hospital from a Nazi concentration camp in 1945, Gardos wrote letters to 117 Hungarian women at hospitals across the Nordic country, claiming to have known them back home.

Now the story about how he found the woman of his dreams, another camp survivor, by sending those letters to complete strangers, is told in a movie made by his film director son.

"When my father died, my mom handed me two piles of letters tied with a blue and a scarlet ribbon," Peter Gardos, 67, who read his parents' letters in a single night but struggled for 17 years to turn them into a novel and then a film, told Reuters.

Watch the trailer for 'Fever at Dawn'

His movie "Fever at Dawn" opens in December.

Left among the dead in the liberated Bergen-Belsen concentration camp in Germany, Agnes had survived only because a Swedish doctor noticed her finger move.

Bored in another hospital, the young Agnes wrote back to Gardos, mostly for her own entertainment. The two exchanged hundreds of letters before marrying a year later, only to bury their correspondence and turbulent past for the next half a century.

"They had to keep their secret because revealing the story would have meant revealing how they got there, like how my father had to burn corpses at the concentration camp or how my mother fought for scraps of potato peel," Gardos said.

Sweden, Switzerland and Britain accepted thousands of Holocaust survivors in 1945, caring for them until they were healthy enough to leave. Such a show of humanity is desperately needed in Europe now as millions of refugees seek a safe haven, Gardos said.

"The love, the caring, the effort to help these people, who couldn't even walk and had to be carried, is touching," he said.

"Then you see countries in Europe today building barbed-wire fences to keep out refugees in need. Fortunately there are countries again, like Sweden and Germany, who showed that humanity overrules political games," Gardos said.

His father Miklos, who eventually recovered from lung disease, received replies from 18 women and corresponded with nine. He kept the letters from Agnes, who is now 90 and living in Hungary, but burned the others.

Agnes and Miklos married in Stockholm in 1946 before moving back to Hungary. Miklos worked as a journalist, first as a Communist true-believer, then as a disillusioned writer after Soviet tanks crushed an uprising in 1956.

"I don't think this is a Holocaust novel, it's a story of love," Gardos said. "I needed to tell the story of their defiant desire to live, that there's life after death and how important love was."