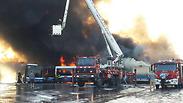 Police announced on Sunday morning that a fire that destroyed 35 buses in Ramat Gan the day before was not caused by a criminal act and that an examination of 15 securit cameras showed no one suspicious entering the premises.
Furthermore, fire and rescue services said the rate at which the first bus burned was too slow to be consistent with arson.
The fire erupted Saturday afternoon at a Dan bus lines' company parking lot located adjacent to the Ayalon mall, immediately spreading among the closely packed buses, though no injuries were reported.
Several residents of the area reported hearing explosions as the buses caught fire, and smoke from the fire could be seen
from all over the Tel Aviv area.
The scene (צילום: אורי ודוידוביץ', כיבוי והצלה ת"א, רון בן ישי, אבי בנסל, רון מאיה)
The flames were successfully extinguished by 26 firefighter crews with 46 firefighters from across central Israel just after 6pm.
As the fire was still burning, Dan company spokesman Eitan Foxman, said, "As of now we are trying to block the fire from spreading to additional buses, and a gas station which is located inside the compound. Multiple fire crews are intensely working at putting out the flames."
He continued to state that, "Our initial information points to about 20 damaged buses as a result of the fire, but we will only know once it's out. Usually there are hundreds of buses on the lot. It's still early to speak to the cause of the fire."
The parking lot was not manned at the time and no injuries were reported. As a result of the fire, Shitrit Street, Abba Hillel Street and Sheshet Hayamim Boulevard were closed to traffic until the flames were extinguished
Fire crews battled the fires using a crane spraying system and bus drivers rushed to remove additional buses from the lot before they caught fire.