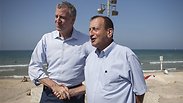 New York City's mayor, Bill De Blasio, on Saturday kicked off a brief visit to Israel that he has described as a solidarity mission at a difficult time.

De Blasio is in the country after weeks of Israel-Palestinian violence. On Saturday, Israel reported a stabbing attack and two other attempted attacks by Palestinian assailants in Jerusalem and the West Bank. The assailants were all shot and killed.

De Blasio met with his Tel Aviv counterpart, Ron Huldai, in the seaside city early Saturday before attending an event sponsored by a mixed Israeli-Palestinian school. Later in the day, he was to meet Jerusalem's mayor, Nir Barkat, and visit Israeli stabbing victims in a hospital.

Ahead of the trip, de Blasio said the visit has "taken on extra meaning now because of the crisis in Israel" and said it was "very important to stand in solidarity with Israel."

A trip to Israel is a staple for New York mayors, who represent a large Jewish constituency. This is de Blasio's first visit as mayor, his fourth overall.

Aides said De Blasio considered a trip to the West Bank, but that has been scuttled because of security concerns. He is not scheduled to meet with any Palestinian leaders.

The three-day trip is being paid for by Baruch Eliezer Gross, a Brooklyn resident and founder of the Besadno Group, an investment firm with offices in Jerusalem and New York.

The city's Conflict of Interest Board approved the donation. De Blasio said it was "absolutely appropriate" and noted that the gift prevented taxpayers from being burdened with the cost of the trip.

This the first of de Blasio's international trips to paid for by an individual.

The latest wave of Israeli-Palestinian unrest began last month with clashes at Jerusalem's most sensitive holy site and quickly spread across Israel and into the West Bank and Gaza.

A series of attacks, mostly stabbings, have unnerved Israel, which has responded by beefing up security nationwide and imposing checkpoints in Palestinian neighborhoods of Jerusalem. Palestinians say the unrest is the result of years of occupation and failed hopes for gaining independence.

Eight Israelis have been killed in Palestinian attacks, most of them stabbings. Some 38 Palestinians have been killed by Israeli fire, including 18 labeled by Israel as attackers, and the rest in clashes with Israeli troops.