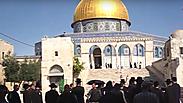 Jews at the Temple Mount
Photo: Temple Movements
Israel and the US have been working in the diplomatic arena to thwart a French initiative to pass a presidential statement of the UN Security Council condemning Israel for allegedly using excessive force and constructing in the settlements.

Follow Ynetnews on Facebook and Twitter

The French proposal raises the possibility of sending an international observer force to the Temple Mount similar to the Temporary International Presence in Hebron (TIPH) observers currently stationed in Hebron. The proposal requires the full consensus of all 15 Security Council members. It is set to be deliberated at the Security Council meeting on the Middle East on Thursday.

The Israeli government was angered by the French proposal, seeing it as a continuation of a previous proposal to set a timetable for the establishment of a Palestinian state and an attempt by France to expand the Quartet by adding new countries. The Prime Minister's Office said that "the French proposal regarding international supervision on the Temple Mount is entirely baseless. It is only declarative. Israel is working with the US and others against this initiative."

Netanyahu instructed the Ministry of Foreign Affairs and National Security Adviser Yossi Cohen to protest against what he termed the biased and baseless wording of the French proposal. "Israel expects condemnation of the incompetence of the Waqf on the Temple Mount," the government stated. "It is the Palestinians who brought explosives and fireworks and turned the Temple Mount into a terror warehouse, and it was they who tried to change the status quo. Israel maintains the status quo and is committed to it."

The Prime Minister's Office emphasized: "Jews are allowed to visit the Temple Mount according to the status quo. The setting on fire of Joseph's Tomb indicates what would happen to the holy sites if they were not under Israeli control, exactly what is happening in Palmyra and Iraq. The fundamental problem is incitement."

Internal Security Minister Gilad Erdan said the French proposal is "distorted and biased". He stressed that "factually, those who made the Temple Mount into a terror warehouse are the Palestinians. Anyone who wants to station international observers is rewarding Palestinian violence and weakening Israeli sovereignty."

The Foreign Ministry in Jerusalem also condemned the French proposal, saying it "rewards terror perpetrated by the Palestinians." An Israeli official said Saturday that Israel sent messages to a series of world leaders, requesting them to dispel the claim that Israel was "changing the status quo on the Temple Mount."

According to an Israeli official's assessment, the chances of the French proposal being passed are slim, due to the need for a full consensus by all 15 member states. Thus Israel has launched a fierce attack against the initiative to ensure that it does not gain momentum.