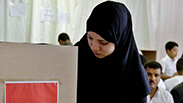 אזרחית מצרים מוסלמית מצביעה ב ריאד בחירות כלליות פרלמנט
Egypt's first parliamentary election since the 2013 ouster of an Islamist president and the election a year later of the army general who removed him began on Sunday, with the outcome likely to be a compliant legislature that will back, rather than challenge, the policies of soldier-turned-president Abdel-Fattah Al-Sisi.

Al-Sisi, who as military chief led the ouster of Mohammed Morsi, has since taking office 16 months ago waged a campaign to revive the country's ailing economy, fight an Islamic insurgency and assume a greater role in a turbulent Middle East – all while silencing opposition at home.


The 60-year-old Al-Sisi has spoken vaguely of his democratic convictions, preferring instead to focus in his public comments on what he sees as the vital need for Egyptians to unite in the face of security and economic challenges and emphasizing what he terms as the close bonds between the people and the army, in which he served for some 40 years.

Warning Egyptians against the chaos and bloodshed engulfing countries like Libya, Iraq, Syria and Yemen and counseling them to close ranks and rally behind their army have been common themes in Al-Sisi's comments, which are in turn echoed by his supporters in the media.

Fearing attacks by Islamic militants to disrupt the vote, tens of thousands of police and soldiers have been deployed to secure the election, many of whom were in full combat gear, complete with camouflaged fatigues, helmets and body armor. Some wore ski masks. In one polling center at Imbaba, a one-time Islamist stronghold in Cairo's twin city of Giza, dozens of troops were on guard duty and sandbagged machine-gun positions were set up.

At another polling center in Giza, policemen searched voters before allowing them in and asked some to leave their bags outside.

There was a resolve among early voters Sunday to keep Islamists out of the 596-legislature, with some saying they are casting their ballots specifically to ensure that. Mohammed Morsi, the president ousted by Al-Sisi, belonged to the Muslim Brotherhood, an Islamic group now banned and labeled a terrorist organization.

However, the Salafi Al-Nour party, an ultraconservative Islamic group that supported the ouster of one-time ally Morsi, is running in this election.

"I came to vote because it is my duty, if not enough people show up to vote, the country will fall into the hands of the Brotherhood and the Salafis. Then we will have more of a mess," said Nahed Aref, a retired jeweler, while waiting in line to cast her vote in the Giza district of Dokki.

"The main issue for me is voting for candidates who are neither Salafis nor Brotherhood. We need to separate religion from politics," she said.




Another retiree in Giza, Mamdouh Abdel-Aziz, 72, walked 30 minutes to reach his designated polling center and waited another 30 in line to cast his ballot.

"My hope is that the election will strengthen Egypt ... and that we aren't controlled by someone with a beard or someone who uses religion for personal gain," he said, alluding to Islamists.

Egyptians residing abroad began voting Saturday and will continue Sunday, the first of two days of voting in 14 provinces, including Giza and the Mediterranean port city of Alexandria. About 27 of Egypt's registered 54 million voters reside in the 15 provinces where voting is taking place Sunday.

Voting in Egypt's 13 other provinces, including the capital Cairo, will be on Nov. 22-23. Each stage of the vote will be followed by a runoff.

Final results for the 596-seat parliament will be announced in early December.

Many analysts and observers expect a low turnout despite President Abdel-Fattah's Al-Sisi's impassioned call Saturday on Egyptians to come out and vote.

"Line up in front of polling stations and plant with your votes the hope for a bright tomorrow for our new Egypt," said the soldier-turned-president in a televised address.

The next parliament will be the first elected after the adoption last year of a new constitution, arguably the most liberal Egypt has ever had. The constitution empowers lawmakers, albeit under stringent conditions, to impeach the president, call for early presidential elections or withdraw confidence from the prime minster or individual members of his Cabinet.

But analysts and observers say Al-Sisi has made sure that the next parliament will be subservient to his will so that he can press ahead with his policies without the distraction of serious political opposition.

A compliant chamber will harken back to those elected under Hosni Mubarak, the authoritarian leader ousted in a 2011 popular uprising, when election after election gave his National Democratic Party an overwhelming majority amid credible claims of rigging, fraud and police interference.

Under a new election law he decreed last year, 448 of the house's seats will be contested by "individuals" – or candidates not linked to any political group, a system that, critics say, will favor wealthy government-connected businessmen and powerbrokers with strong local patronage networks, in what is essentially a repeat of the Mubarak-era model. Only 120 lawmakers will be elected on party lists, while Al-Sisi will appoint 28 others, potentially bolstering support for his rule in the chamber.

Shopkeeper Mohammed Hussein predicted that, "the turnout will be low because we don't know the people running."

"I personally just voted for the first guy I saw. I am only participating for Al-Sisi," Hussein, 60, said after he cast his ballot in Imbaba, the Giza district.

The election is being held amid a climate of fear not seen in decades and a tightly controlled public sphere.

Backed by a population longing for stability and peace after the chaos and bloodshed that followed Mubarak's ouster, authorities have gradually shown less and less tolerance for dissent since Morsi's ouster. Security forces have since killed hundreds of Islamists in a series of deadly clashes in the summer of 2013 and jailed thousands more, of whom scores have been sentenced to death after trials criticized by rights groups as flawed or hasty.

Draconian restrictions on demonstrations since late 2013 have all but killed street activism of any kind. Human rights abuses by the police go mostly unpunished or even investigated and authorities have shown little concern over recent cases of young activists opposed to Al-Sisi's government or linked to the Brotherhood disappearing.

Homemaker Christine Shereef, 33, stood unhappily in line outside an Imbaba polling center with her husband, Munir Murqus, who said he only convinced her to come out and vote by promising he would take her out to dinner.

"We need to return the favor to Al-Sisi. He saved us from the Muslim Brotherhood," said the 34-year-old Murqus, who works at a printing shop. "When Al-Sisi says go vote, you go vote."

"All our families are voting too, and I don't understand why," interjected Shereef, his wife. "We don't know any of these (candidates) and none of this matters, anyway. The government does what the government wants to do."