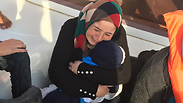 יאכטה ישראלית הצילה פליטים סורים ועיראקים מול חופי יוון תינוק מת
A group of Israelis rescued several drowning Syrian and Iraqi refugees near the Greek shore on Sunday morning. Upon spotting the refugees, the Israelis stopped their yacht and fished out 11 refugees, including four children, and, tragically, a deceased infant.
After providing first aid to the refugees, the Israelis notified Greek authorities.
The incident occurred across the Turkish town of Kas, next to the Greek island of Kastellorizo. Shlomo Asban, the yacht captain, recounted the rescue: "I've been sailing for 40 years and this is the first time something like this has happened to me. We heard cries for help from the water, stopped the boat and found a teenage refugee with a life vest. We pulled him out of the water and he told us that his brother was missing and apparently dead."
Pulling refugees out of the water (צילום : שלמה אסבן וגל ברוך)
At that stage the Israelis believed that the boy was the sole survivor, but a few minutes later they spotted other refugees in the water alongside a rubber boat that had sunk. "We retrieved a total of 12 people, including a dead six-month-old baby who was in his mother's arms, said Asban."
Esban also recounted that "the mother held the baby in her arms all night long. We found out they were Syrians and Iraqis, gave them water and cell phones to talk with their families. After we told them that we Jews from Israel, they kissed us and thanked us."
Gal Baruch, a resident of Rinatya who was also on board said: "The first boy we identified spoke Arabic and said he was from Syria. We asked if there were other people, but he started to cry and pointed out in all sorts of directions. We combed the area with binoculars and then we found a large group of people. In the group there was also a person who suffered a heart attack and diabetic shock. We gave him sweets to eat and we saved his life."
Baruch added that "it was hard on us. It's not easy to see such a sight. We are a team that is at sea a lot and we have never encountered difficult scenes like these. The team behaved properly and acted according to maritime law, which says you have to save people regardless of where they come from. After an hour of sailing, we removed the refugees safely and they were transferred to the Greek authorities."