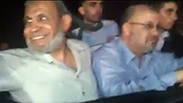 Hamas leader al-Zahar (left)
Hamas has instructed its members and affiliates in the Fatah-controlled West Bank to perform suicide attacks against Israelis in the West Bank and Jerusalem, Israeli officials told Ynet on Monday.

The instructions were given to Hamas militants, mostly in the Hebron and Nablus areas, who can more easily reach Jerusalem. It is believed that Hamas will indeed attempt such attacks if they become operationally feasible.

In addition, a Palestinian security official told Ynet that the Palestinian security forces have recently arrested a Hamas squad in Hebron, finding money and explosives in their possession.

The official also noted that the squad had at least six members, who admitted that they wished to die when interrogated. It was not immediately clear if they planned on performing a suicide terror attack.

Hamas leader Mahmoud al-Zahar said on Sunday that it was necessary to turn the current popular intifada into an armed one.

According to al-Zahar, Israeli society is generally armed – from soldiers to police officers and settlers – and so the intifada must become armed as well.

Meanwhile, Hamas media outlets have started to call for the replacement of stabbing attacks with vehicular terror attacks.

Fatah leader Jibril Rajoub has called recent lone-wolf attacks heroic. "I am proud of them and congratulate anyone who committed them," he said in an interview to Palestinian television. He added that Palestinian organizations have the ability to perform larger attacks, but that the world does not accept buses exploding in Tel Aviv, and so it's better to avoid them.