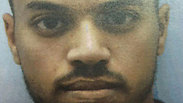 Terrorist Mouhand al-Okbi.
Khalil al-Okbi, the father of Mouhand al-Okbi, who murdered soldier Omri Levi and wounded 10 others in a shooting attack in Be'er Sheva the previous day, claimed on Monday that his son was "executed" and insisted Mouhand did not commit the crimes attributed to him.

"I condemn the violent acts, but we don't know the truth at the moment," he told the media gathered outside his home in the Negev-region village of Hura.

The father isn't the only one who has a hard time believing Mouhand is the one behind the attack. The rest of his family and other Hura residents also said they did not believe he was involved.

It seems that al-Okbi's mother was born in the Nusirat refugee camp in the Gaza Strip. She was allowed to live in Israel because she married an Israeli citizen. Mouhand al-Okbi, unlike some other Bedouin-Israelis, did not serve in the IDF, and police investigators have confiscated a computer and some documents from his home in order to determine his whether he was influenced by extremist Islamist propaganda.

Shukri al-Okbi, a relative, said that the Bedouin community was in shock. "First of all, we condemn this with all our might. The entire tribe is in total shock by the incident. We are against violence and oppose harming innocents. We want to preserve the coexistence, the fraternity between us. This is a very very sad moment for the tribe especially, and the whole country."

Of the terrorist, he said, "I almost never see him. But no one thought, certainly not his parents, that he would do something like this or that he would think for a moment to do something horrifying like this."

When asked about the suspicion that Mouhand al-Okbi trained with a weapon before the attack, evidenced by the fact that he took the weapon from the soldier he killed and operated it competently, Shukri said, "I have no idea. We are against the conflict, with firearms or hand-to-hand weapons."

He went on, saying that the father, Khalil al-Okbi, was "A sick man, and we feel very very bad for him. I still hope they find out he was in the area, that he didn't do it. This country is very important to us and we want to protect it. We didn't wish for a moment for what happened yesterday to happen. This kind of thing happens once in a million years."

Twelve people were evacuated to the Soroka Medical Center in Be'er Sheva on Sunday, among them soldier Omri Levi, who was DOA. Eleven others were wounded, among them two in critical condition. One of those two was Haptom Zarhum, an Eritrean man who was shot, then lynched by civilians.
Bedouin municipality heads offer total condemnation
Several heads of Bedouin municipalities and councils, as well as different public representatives in the Negev region, held a press conference on Monday in order to condemn the Be'er Sheva attack and stress the Bedouin population's commitment to the State of Israel.

"We woke up to a difficult morning, and we want to completely condemn the event," said Rahat Mayor Talal al-Krinoui. "We are first and foremost citizens of the State of Israel, a bridge for peace. The Bedouins have never taken part in the conflict. We are committed to keep law and order. We live next to one another, everywhere, study and work together, hour after hour, and we won't let such an incident ruin this relationship."

Former MK Taleb el-Sana said that "We are here because we feel a responsibility and are expressing a clear and uncompromising stance, without mumbling, and we condemn the attack as strongly as we can. This is an individual's act. Please, do not generalize and do not besmirch the entire Arab population in the Negev."

The head of the Hura municipaliy, Dr. Muhammad Nabari, said, "This is the first time we have gathered in one room, all nine heads of the Bedouin municipalities in the Negev, to send out a clear and sharp condemnation. The Bedouins are not on the fringes of Negev life. We are a third of the population here, and it's in our interest to keep relationships working."

Dr. Nabari continued, "The difficult situation Bedouin society is in is known to all. There are young people without hope, and that can lead to a catastrophic result and to radicalization. Only if we make an effort of local and national leaders together, can we lead to a better quality of life in the Bedouin society, giving people something to lose, and that way they'll be deterred from this kind of extremist action."