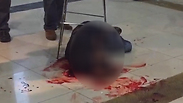 Haptom Zerhom after being gunned down and attacked by the angry crowds
Photo: Idan Moshe
"They yelled that he was a terrorist so I kicked a bench towards his head. You're either a hero or a zero," said David Levy, a worker at Shawarma Ezra, who was filmed along with others beating Haptom Zerhom, a 29-year-old Eritrean national, who was believed to be a terrorist during Sunday evening's attack at the Be'er Sheva central bus terminal.

Levy, like several others, found himself among an angry crowd who believed that the Eritrean was an Arab terrorist. "If he was a terrorist, everyone would have thanked me," he said in an interview on Monday.

Investigators from the police's southern district began collecting evidence and security footage from the scene of the attack on Monday morning, less than 12 hours after Mouhand al-Okbi, a Bedouin man from the village of Hura, committed a shooting and stabbing attack which killed IDF soldier Omri Levi.

Investigators were trying to identify who among the civilians who were present at the scene took the law into their own hands.

After he was falsely identified and shot by the bus terminal's head of security, Zerhom was severely beaten by civilians furious over the attack. He was evacuated to the hospital in critical condition, and succumbed to his wounds a few hours later.

The attack (צילום: חוסני קומבז )

"People were yelling 'terrorist attack!' so I immediately jumped out of my restaurant," David recalled. "I don't know what they want from me, everything happened so fast, and I didn't have time to think," he said.

"The security officer yelled that he was a terrorist, and I trusted his call," he concluded. After giving his testimony to the police, Levy said that "They asked me why I did it, and I said I thought he was a terrorist. I told them that if he was a terrorist, no one would have said anything to me. Today I regret my actions, but that is in hindsight. "

A., who also works at the bus terminal, was also caught on film kicking the Eritrean man's head. According to him, he didn't mean to kill the "terrorist," but rather wanted to knock him unconscious. "At first everyone stayed away from him, but after one or two minutes the guard ran to the other side because the gunfire was ongoing, and I wanted to help restrain him," A. said.



He said that "One of the people put a chair on him in order to trap him, and after I saw that he was still moving, I kicked his head because I wanted him to lose consciousness."

"In the past there were cases were the terrorist got back up and kept stabbing," he added.

A. has yet to be investigated by the police, but he is convinced that it was just a matter of time before the investigators get to him as well.

"There is nothing to do, when they come to me I will tell them what happened, it was a split second decision," he concluded.

According to Hagi Ezra from Shwarma Ezra, "After the first few shots, everyone went out to see what was happening. The Eritrean man ran inside with everyone, and was crawling on the floor, and they shot him because they thought he was one of the terrorists, and because the security officer decided that he was a terrorist.

"People took out their rage on him, and then they were pushed back. After a few seconds everyone jumped back on him, and only a sole bus driver tried to protect him, but he was not successful. Everyone who ran next to him threw a chair at him, or kicked him. People thought he was a terrorist and took the law into their own hands," he said.

D., who witnessed the attack, said, "We thought he was a terrorist, so some of us kicked him, while others pushed them back. We were sure that this person was a terrorist. He didn't have a knife or gun, nothing, they just shot him for nothing.

"There were a few people who tried to stop the raging group, but I did nothing because I was afraid I would get hurt," he added.
'Afraid of terrorists and the Interior Ministry'
Asylum seekers at the Holot detention facility held a short memorial ceremony and a moment of silence on Monday afternoon in memory of Zerhom.

"People who saw the footage were in shock, we talked about Haptom, and it was important for us to give him this last honor," one of the asylum seekers, Afrawaki Tama, said.

"We are feeling a great pain for what has happened, it should not have happened," he added. "We are afraid of the terrorists on the one hand, and of the Interior Ministry on the other, and now we also fear events like yesterday."

"People are hurting and very sad necause of the killing of the Israeli citizen and Haptom's death," said Mutasim Ali, Executive Director of the African Refugee Development Center. "The most difficult part was to find out that Haptom was beaten after he was shot even though they knew he was an innocent asylum seeker, and had no weapons."

Ali added that, "The fear in the community has grown as a result of the recent terror attacks. We are waiting for the investigation and ask the government of Israel to work towards improving the process of identification of suspicious people, so we don't see more innocent victims. We are ready to cooperate with all the relevant agencies on this matter."

Attorney General Yehuda Weinstein spoke with the head of the police's Investigations Department, Deputy Commissioner Meni Yitzhaki, and asked him to use all resources at hand in order to expedite the investigation. Weinstein additionally asked for daily updates on the investigation and its progress.

Itay Blumental, Ilana Curiel, Omri Efriam contributed to this article.