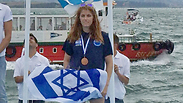 Maayan Davidovich (Photo: Alexei Yahananov)
Israeli windsurfer Maayan Davidovich participated in the world championships in Oman on Monday, after agreeing to remove her national flag from her sail and enter the country on her Austrian passport accompanied by a personal body guard - all to ensure her safety.

Davidovich's participation marked the first time an Israeli has competed in Oman and the first time an Israeli athlete has

competed internationally without sporting the national flag.

A number of Israeli windsurfers were originally blocked from competing in Oman by the Ministry of Culture and Sport over safety concerns.

Davidovich earned the opportunity to compete after a lengthy fight by Alex Giladi, a member of the International Sailing Federation.

Davidovich has previously won two bronze medals at the windsurfing world championships.

On Monday, she came in ninth place overall after coming in tenth, eleventh and tenth again in three rounds of competition.