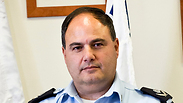 Photo: Tal Shahar, Yedioth Ahronoth
Israeli police are planning for the arrest of "hundreds" of East Jerusalem residents suspected of taking part in rioting including the throwing of rocks and firebombs, announced acting Police Chief Bentzi Sau late Tuesday morning.

Sau also revealed that six teams of special investigators would soon be sent to Jerusalem to work with the Shin Bet and other security officials in continuing efforts to bring an end to the current wave of violence - efforts which Sau said are working.

"In the last two weeks we've managed to bring quite back to the Temple Mount partly due to the distancing of inciters," claimed the acting police chief. "There is an important and significant decrease in stone throwers."

Sau accredited this decrease of violence to "efforts of dialogue with local leadership and community."

Some 480 residents of East Jerusalem have already been arrested during the recent wave of violence.

Sau is the acting police chief, filling the position vacated by Yohanan Danino until next month when newly appointed Roni Alsheich will take up the position.

The announcement of a wave of arrests in East Jerusalem comes after weeks of increased violence in the West Bank and Israel.

While attacks and riots continue in many parts of the Palestinian population however, the Temple Mount has remained comparatively calm in the last two weeks.

Eli Senyor contributed to this report.