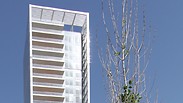 A Russian foreign resident has signed a $45,000 a month deal to rent an apartment in Tel Aviv's prestigious Remez Tower, located in the city's "old north" neighborhood, a popular residential area.

The deal was reported on Tuesday by Israel Sotheby's International Realty, the local arm of Sotheby's International Realty.

Ynet was told that the foreign resident agreed on the rental without having seen the apartment – and that he was not involved in all of the negotiations. The rental period is six months. The rental sum does not include management fees, which stand at around NIS 4,000 per month (a little over $1,000).

The apartment is located near the top of the tower and spans an entire floor, covering 320 meters. It comes with a balcony overlooking the sea and includes six bedrooms, a guest quarter with its own entrance and an electric heating system. The apartment is also fully furnished with Italian-made items.

According to Sotheby's Israel, the average cost for a standard apartment in a sought-after block in Tel Aviv is around NIS 60,000 (around $15,500) per month. What's more, the current rate is around three times that of the market average.

"Statistics such as these place Tel Aviv among the most expensive cities in the world along with New York and London," says Isidora Fridman, an executive director at Sotheby's Israel.

"On New York's Fifth Avenue, a similar-sized apartment to the one in Remez Tower goes for $50,000 per month," Fridman added.