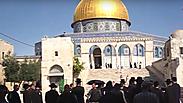 יהדות הר הבית
Photo: Temple Movements
The United Nations Educational, Scientific and Cultural Organisation (UNESCO) adopted a resolution on Wednesday condemning Israeli handling of Jerusalem's al-Aqsa mosque.
The resolution adopted "strongly condemns Israeli aggression and illegal measures restricting freedom of worship and access to the holy Muslim site of the al-Aqsa Mosque." It also "strongly deplores" among other things "persistent outbreaks of Israeli right-wing extremists on the site" and "urges Israel" to "take the necessary steps to prevent provocative actions that violate the site's sanctity."
After last-minute changes, however, the resolution approved by UNESCO's executive board dropped a potentially more controversial clause laying claim to Jerusalem's Western Wall as a holy site for Muslims only, Israeli diplomats said.
That clause, which was proposed by several Muslim countries and would have stated that the Western Wall was an integral part of the al-Aqsa mosque compound, vanished after it was condemned by the Israeli government and Jews worldwide, and disowned as dangerous by UNESCO's own director general, Irina Bokova.
Israel had denounced the "shameful and deceitful attempt to rewrite history" and Ms. Bokova had "deplored" the initiatives likely to be "seen as changes in the status of the Old City of Jerusalem and its walls", calling on the Council to "make decisions that do not further fuel tensions on the ground."
The resolution was adopted with 26 votes in favour and six against. The countries that voted against it were The United States, Germany, The United Kingdom, Holland, the Czech Republic and Estonia. There were 25 abstentions including France, diplomats said.
The UNESCO text also stated that the "Al-Haram Al-Ibrahimi/Tomb of the Patriarchs and the Bilal Ibn Rabah mosque/Rachel's Tomb" were an integral part of Palestine.
The Palestinians won full membership of UNESCO in October 2011 in what was seen a major step forward for their efforts to achieve recognition as an independent state, despite intense opposition from both the Israeli government and Washington.