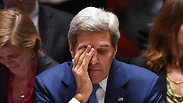 US Secretary of State John Kerry
Photo: AFP
Kerry expresses 'cautious optimism' after Netanyahu meeting
US officials say Kerry sought clarification about status quo on Temple Mount in meetings with PM in Germany; ahead of meeting, Netanyahu slams Abbas, asking 'why is he and the Palestinian Authority glorify mufti of Jerusalem' who supported the Final Solution during WWII.
US Secretary of State John Kerry expressed a "cautious measure of optimism" after a for-hour meeting with Prime Minister Benjamin Netanyahu in Berlin on Thursday about proposals that could help defuse the deadly wave of recent violence in Israel.

Kerry, his voice hoarse after an overnight flight and the lengthy talks, told reporters that he planned to raise the proposals with Palestinian President Mahmoud Abbas and Jordan's King Abdullah in meeting Saturday in Jordan's capital, Amman.

"I come directly from several hours of conversation with Prime Minister Netanyahu and I would characterize that conversation as one that gave me a cautious measure of optimism that there may be some things that may be in the next couple of days put on the table which would have an impact -- I hope," Kerry said.

"I don't want to be excessive in stating that, but I am cautiously encouraged."

A senior official traveling with Kerry said ahead of the meeting that the secretary would use the Germany talks to try to "change the tone of the public discourse" between Israel and the Palestinians and clarify the status of the Temple Mount, the holy site at the center of the tensions.

Kerry, who will meet Palestinian President Mahmoud Abbas on Saturday in Jordan, has said he wants clarity about the status quo about the site, but officials say he doesn't believe that needs to be in writing.

"I think it's time for the international community to say clearly to President Abbas: Stop spreading lies about Israel," Netanyahu told Kerry at the beginning of the meeting. "Lies that Israel wants to change the status quo on the Temple Mount, lies that Israel wants to tear down the al-Aqsa Mosque and lies that Israel is executing Palestinians."

"I think it's time that the international community told President Abbas to stop the incitement and hold him accountable for his words and his deeds," Netanyahu added.

Kerry was more circumspect and did not single out Abbas for blame. But he also did not address comments Netanyahu made earlier this week about a former Palestinian leader inspiring Hitler's Holocaust, which many historians dispute and many Palestinians have criticized as incitement.

"We have to stop the incitement, we have to stop the violence," Kerry said, adding that he had spoken to Abbas and Jordan's King Abdullah, who is charged with overseeing the Jerusalem site, in the past day and both assured them of their commitment to calm.

"I believe people want this to de-escalate," he said of Abbas and Abdullah, whom he will meet on Saturday in Amman.

Kerry added that these conversations would be "very important to settle on the steps that can be taken beyond the condemnation and beyond the rhetoric" to end the violence.

Netanyahu will also meet in Berlin with the European Union's High Representative for Foreign Affairs and Security Policy, Federica Mogherini, on Friday.

A statement from the EU said Mogherini plans to meet with Abbas in the coming days as well.

After his meeting with Netanyahu in Berlin, Kerry will head to Vienna, where he will see the foreign ministers of Russia, Turkey and Saudi Arabia about Syria on Friday. He then plans to visit Amman, where he will see Jordan's King Abdullah in addition to his talks with Abbas. A stop in Saudi Arabia is also envisioned.
Netanyahu clarifies Holocaust comment
Complicating his already delicate tasks, the situations in both hotspots took unexpected and potentially dangerous turns late Tuesday and Wednesday.

Netanyahu blamed a former Arab leader for inspiring Hitler's Holocaust.

Speaking at the 37th Zionist Congress in Jerusalem on Tuesday, Netanyahu claimed that, "Hitler didn't want to exterminate the Jews at the time, he wanted to expel the Jews. And Hajj Amin al-Husseini went to Hitler and said, 'If you expel them, they'll all come here.' 'So what should I do with them?' he asked. He said, 'Burn them.'"

After being hit with criticism from all directions, the prime minister went back on his comments and clarified, saying on Wednesday, "I had absolutely no intention of absolving Hitler of his diabolical responsibility for the extermination of Europe's Jews. Hitler was responsible for the Final Solution to murder six million, it was his decision.

"At the same time it is absurd to ignore the role played by the Mufti, Haj Amin al-Husseini, a war criminal, in encouraging and goading Hitler, Ribbentrop, Himmler and others to exterminate European Jewry."

During a press conference with German Chancellor Angela Merkel in Berlin, the prime minister directed the blame to Abbas, saying, "I think the real question should be directed not at me, but at President Abbas. Why is he, and the Palestinian Authority, glorify, officially, the mufti of Jerusalem as a Palestinian icon? They call him the father of the Palestinian nation. This is a war criminal who was sought for war crimes in Nuremberg. This is a man who collaborated with the Nazis. And yet he is glorified in school books, in texts, as the father of the nation and a figure of emulation."

צילום: רויטרס

Those comments, coupled with relentless Palestinian stabbing attacks on Israelis, threaten to further inflame the combustible atmosphere.

Although US State Department spokesman John Kirby wouldn't criticize Netanyahu for incitement, he said of the Holocaust comments, "The scholarly evidence does not support that position."

US officials have yet to detail any American plan to end the Israeli-Palestinian unrest that erupted a month ago over Jerusalem's most sensitive holy site. During that time, 10 Israelis have been killed by Palestinian terrorists, mostly in knife attacks, while 47 Palestinians - including 26 attackers - have been killed by Israeli fire. The remainder died in clashes between Israeli forces and Palestinian protesters. In addition, an Israeli mob killed an Eritrean migrant after mistaking him for an Arab attacker, and an Israeli was killed by an IDF soldier after being mistaken for a terrorist.

The site under contention is known to Jews as the Temple Mount, the holiest site in Judaism and home to the biblical Temples. For Muslims, it is the Noble Sanctuary, home to the Al-Aqsa Mosque, the third-holiest site in Islam and a key national symbol for the Palestinians. The site, captured by Israel from Jordan in the 1967 Six-Day War, is a frequent flashpoint of violence.

The Palestinians accuse Israel of trying to change the longstanding "status quo" at the site, which allows Jews to visit but not to pray. They point to a growing number of Jewish visitors who seek an expanded Jewish presence and prayer rights at the site.

Netanyahu says there are no plans to change the status quo, and that the Palestinian allegations are slanderous incitement. He says the hostile rhetoric, and incendiary videos making the rounds on social media, are fueling the violence.

"These terrorists are quite plain about what they seek. They say so in their Facebook pages and openly, after they're caught, those who are not killed. They all say that they are killing Israelis, not because they're frustrated by a lack of progress in the peace process, because they care nothing for peace, these terrorists. The simple truth is that they want to kill Jews and destroy the State of Israel all together," the prime minister said during his press conference with Merkel.

"I wish it weren't so. Israel wants peace. I want peace – a peace founded on mutual recognition in iron-clad security arrangements in which Israel could defend itself by itself," he added."

Netanyahu was greeted in Berlin by 150 people protesting outside the press conference.
Ban offers grim assessment on defusing tensions
UN Secretary-General Ban Ki-moon, who himself met with Netanyahu and Abbas in an effort to calm down tensions, concluded his surprise visit with a grim assessment of prospects for defusing the ongoing wave of violence.
British Ambassador Matthew Rycroft said council members were "struck by the pessimistic tone" Ban took during the closed video briefing.
Rycroft said Ban "thought there was a very wide gap" between the two sides "both on the short term, on how to deescalate, and on the longer term to go back to a genuine political process leading to a two-state solution."
Rycroft said the UN chief told the council that "all of those with influence need to use it to de-escalate the situation."
After his meeting with Abbas on Wednesday, Ban released a summary of past international protection regimes for disputed territories as requested by the Palestinians, though he made clear he was not recommending one for holy sites in Jerusalem.
The 42-page report does not focus on the successes and failures of the various protection regimes but merely describes their structures and legal bases.
It was Abbas who originally requested the report's release. The Palestinians have been calling for an international protection force to be deployed at Jerusalem's holy sites.
In a cover letter accompanying the report, Ban told the 15 Security Council members that "this paper does not propose any particular system ... for the Occupied Palestinian Territory."
Diplomats said on condition of anonymity that the French had suggested that the Security Council ask the United Nations to prepare a report weighing options for a protection regime for Jerusalem's holy sites, but the United States, Israel and others opposed it.
The chief Palestinian UN delegate, Riyad Mansour, told reporters last week he hoped circulation of the protection regime report would encourage Security Council members to consider a force for the al-Aqsa mosque on the Temple Mount, a site that is holy for both Jews and Muslims.
Eldad Beck, Itamar Eichner, and the Associated Press contributed to this report.