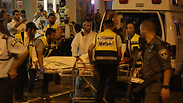 The scene of the altercation
Photo: Gil Yohanan
A Jewish man who was shot dead on Wednesday night after IDF soldiers believed him to be a terrorist, yelled "I am Daesh" (the Arabic name for the Islamic State) in Hebrew before trying to seize a rifle from a soldier who stood guard at a bus stop, initial investigation by police revealed on Thursday.

The 28-years-old man made aliyah from the autonomous region of Dagestan (a federal subject of Russia). He studied at the Devar Yeshiva in Jerusalem's Har Nof neighborhood, and served in the IDF's Haredi combat brigade Netzah Yehuda.

Security footage showing part of the incident

According to investigation findings, the two soldiers who were guarding the bus station wanted to get on a bus on Yermiyahu Street at the end of their shift.

The man noticed the soldiers and asked them for their ID's, which then raised their suspicion, leading them to ask him to identify himself. An altercation then broke out, during which the man attacked the soldiers and attempted to grab one of their weapons.

The bus driver, who had noticed the commotion, attempted to help them subdue the man by using his tazer, but was unsuccessful and the man then continued his attempts to steal the soldier's weapon.

A guard who was nearby saw the struggle, ran to the scene, and fired at the man. The soldiers then conducted secondary fire.

"He was involved in martial arts in Dagestan," said one of the man's friends. "After the yeshiva he joined the army and worked as a security guard before going back to the yeshiva. We saw him two days ago, he seemed a bit off, confused. He was involved in physical altercations in the past, and was hot headed."

According to witness statements, which are being examined by the IDF's criminal investigation division (CID), a series of mistakes led to the man's death.

The IDF spokesperson said that, "An initial investigation found that the soldiers opened fire, and the details and circumstances are being examined."