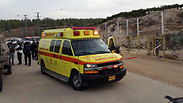 A soldier was lightly wounded in a stabbing attack in Gush Etzion in the West Bank early Friday morning.
The terrorist, who stabbed the soldier in the back, was shot in the leg and neutralized. He is in light condition.
The wounded soldier was evacuated to Shaare Zedek Medical Center in Jerusalem for treatment, while the terrorist was taken to Hadassah Medical Center in Jerusalem's Ein Karem.
An initial investigation of the attack suggests that IDF soldiers arrived, as they do every morning during this season, to open the separation barrier near the settlement of Gevaot to let Palestinian olive farmers cross the barrier and work their olive groves located west of the fence.
Scene of stabbing attack (צילום: אלי מנדלבאום, רועי ינובסקי ודוברות מד"א ירושלים)
After soldiers opened the gate, a Palestinian attacked one of them, a tracker from the Etzion Regional Brigade, and stabbed him in the upper body. His fellow soldiers immediately shot the terrorist in the foot and neutralized him. The terrorist is a 16-year-old from the village of Surif.
The olive harvest season is taking place in the West Bank at this tense period of time. The IDF feared that under the cover of the Palestinian olive harvest, some of which is done on plots of land near settlements and even within them, that there would be attacks or incidents between Jews and Palestinians. Therefore, the IDF secures certain points where olive harvesting is carried out in the West Bank from the morning until the evening.