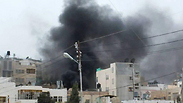 Smoke rises from burning tires in Hebron.
Five Israelis were injured after a firebomb was thrown at their car near Beit El late on Friday afternoon, amid a day of clashes between Palestinians and security forces
Reports indicated that one of the victims, a four-year-old girl was moderately wounded. The four other victims were lightly wounded as a result of their burns.
The attack took place on route 60 in the West Bank near Beit El, and all five were evacuated to Haddasah Ein Karem hospital for further treatment. According to MDA reports, the youngest victim, the 4-year-old girl, was suffering from burns to her upper body, while the other 4 victims: The girl's father, mother, brother and sister, had sustained burns on their extremities.
Video from the scene (צילום: הצלה יו"ש)
Authorities had lifted age restrictions for Muslim worshippers on the Temple Mount on Friday and afternoon prayers ended without incident, but Palestinian riots began shortly after in several locations across the West Bank and Gaza including Hebron, Beit Umar, Ramallah and Bethlehem.
Palestinians involved in the violence burned tires and threw stones at security forces, lightly injuring one border policeman in Beit El who received treatment at the scene.
Clashes in Gaza (צילם: רועי עידן)
Clashes also erupted between masked youths and security forces on the northern and southern portions of the Gaza strip, adjacent to the border fence. In the northern portion of the strip, dozens of youths threw rocks at the Erez crossing, while youths threw stones and lit tires on fire on the portion of the border fence that sits adjacent to Khan Younis.
The border clashes have become common place in recent weeks, and Palestinian medical sources had reported that four Palestinian man had been wounded by live fire during clashes near the Gaza border fence. A Gazan man had also reportedly succumbed to his wounds at Gaza's Shifa hospital on Friday, as a result of wounds sustained during clashes on the border last week.
Friday was designated by Hamas as a "day of rage" and protesters began marching in the Gaza Strip but have not yet reached the border fence where Palestinians have clashed with IDF troops several times in the last few weeks.


Earlier in the day, a Palestinian stabbed a soldier in the West Bank and was shot by troops, the military said. The soldier was wounded in the stabbing, and the 16-year old assailant was shot and injured.
Elisha Ben Kimon, Roy Yanovsky and Elior Levy and Telem Yahav contributed to this article.