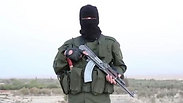 פעיל דאעש מדבר עברית מאיים איום על ישראל
A branch of the Islamic state in Damascus released Thursday a threatening video in Hebrew against Israel.

"We will enter Al-Aqsa mosque as conquerors and our car bombs will strike the ramparts of the Jews," said an ISIS member in the video.

Similar to videos in recent days, the video incorporated scenes of the current wave of terror while one of the organization's members gives a hate speech against Israel. "Residents of Jerusalem, we have no F-16 jets nor Apache helicopters to bomb the Jewish army Haifa, Jaffa and Umm al-Rashrash (Eilat), but we promise that we will beat you soon."

ISIS video in Hebrew

Up to that point the video looks no different from other propaganda videos broadcast by ISIS from the territory it controls. However, towards the end of the video, which lasts about 16 minutes, another man appears speaking in Hebrew with a message to Jews. "This is a serious and important message to all Jews, the number one enemy of Muslims."

In quite-fluent Hebrew the masked gunman said "to all the Jews who conquered the land of the Muslims, the real war has not yet started. All that you had before this was child's play compared to what is going to happen to you in the near future, Allah willing."

The threats continued, "Do whatever you want in the meantime until we reach you, then we will make you pay back ten times for all the crimes you've committed and we assure you that soon there will not be a single Jew in Jerusalem and throughout the country and we shall move on until we eradicate this disease worldwide."

Then he began to discuss the latest developments in the Palestinian arena. "Look what happened to you after several vehicular attacks carried out by our Palestinian brothers. You flipped out after the first one and you feared all fast drivers. You even feared anyone carrying something in his hand. This is just your level. Think even for a few seconds what will happen to you when tens of thousands, Allah willing, come after you from all over the world to slaughter you and throw you into the trash for good. Aside from the vehicles and bombs, the smallest child is ready to get on this car and send you straight to hell."

Just as we removed the border between Syria and Iraq, we will, Allah willing, remove them between Syria and Jordan, and between Syria and Palestine," continued the ISIS member. "We will continue on this path and will remove them wherever they are, Allah willing.

"These are not just words. We are advancing towards you from the north, the south, Sinai and Damascus. From all over the world we will come after you to finish you off. We swear to you that not a single drop of Muslims you have killed and continue to kill will be spilt in vain. And we see it and we see your crimes. Our account with you is getting longer and longer and we are ready for it in the near future, Allah willing."

He concluded by saying: "You may think it is too far away and too difficult, but we see that it's really easy and close at hand Allah willing."

At the end of the video he repeated his message in Arabic while swinging a knife in his hand. Until now, ISIS in Sinai, which is must closer geographically, have not, at least publicly, referred to the current escalation in the Palestinian arena.