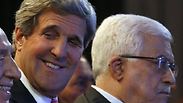 WASHINGTON - The US House of Representatives took the rare step of blocking financial aid to the Palestinian Authority recently in light of the current string of violent attacks and incitement against Israel.

The vote froze some $370 million in yearly aid funds requested by the US State Department. Yearly payments normally stand at $450 million, but were set to be cut to the now frozen amount of $370 million in 2015 as a fine for Palestinian Authority behavior against Israel last year.

Head of the House Committee on Appropriations, Republican Kay Granger from Texas, and senior Democratic Representative Nita Lowey from New York, sent a letter to Palestinian President Mahmoud Abbas warning that a continuation of incitement on the Palestinian side would lead to a cessation of American financial aid.

Their letter insisted that Abbas cease what they called inflammatory speech and that he meet one on one with Prime Minister Benjamin Netanyahu.

The US Representatives cited that the yearly aid package established under the Oslo Accords was only given to the Palestinian Authority on the condition that its leaders "fight against terror and incitement to violence."

Granger and Lowey also warned that the House wouldn't be able to defend financial aid to the PA if Abbas decided to abandon direct negotiations with Israel and steps to achieve "security, prosperity and peace" for both Israelis and Palestinians.

They also stated in the letter that attacks against Israelis raise doubts that Palestinians are interested in living side by side with Israel in peace.

Head of the House Committee on Foreign Affairs, Republican Ed Royce from California, also contributed to the conversation saying that new ways would have to be found to stymie Palestinian incitement which he said continues to reach the public through social media, radio, television, and classrooms.