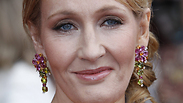 JK Rowling (Photo: AP)
Photo: AP
Prominent UK figures call for cultural engagement with Israel instead of boycott
In open letter to liberal UK newspaper, dozens of prominent figures from across the cultural, academic and political spheres in the UK call for cultural engagement with Israel as a way to cultivate coexistence, as opposed to cultural boycott.
Various cultural and academic luminaries in the UK, including JK Rowling, Simon Schama, Melvyn Bragg and Noreena Hertz, published an open letter in the Guardian newspaper on Thursday, calling for greater cultural engagement with Israel.
The letter, which was also signed by a number of leading British politicians and garnered over 150 signatures, comes amid increasing global focus on the BDS movement and follows a letter the Guardian published in February calling for a cultural boycott of Israel.
Earlier This Year
Musician Roger Waters and film directors Mike Leigh, Phyllida Lloyd, Ken Loach and others join 600 fellow artists who have already pledged not to accept professional invitations to Israel as long as the state continues to deny basic Palestinian rights.
"Cultural boycotts singling out Israel are divisive and discriminatory, and will not further peace," the letter states. "Open dialogue and interaction promote greater understanding and mutual acceptance, and it is through such understanding and acceptance that movement can be made towards a resolution of the conflict."
The letter goes on to voice support for the two-state solution and concludes that "Cultural engagement builds bridges, nurtures freedom and positive movement for change."
The move drew mixed reactions online, with many praising the initiative while others criticized the lack of Palestinian signatories. Particular ire was reserved for JK Rowling, with many expressing disappointment at what they see as betrayal of the values found in her Harry Potter novels.
Efforts are ongoing in Israel to try and limit the impact of campaigning by the BDS movement. Earlier this week, a bill was proposed by a Bayit Yehudi MK that would prohibit foreigners who promote BDS from entering the country.