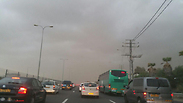 מזג אויר חורף סופות רעמים חול גשמים
Rainstorms and thunderstorms struck most parts of Israel on Sunday morning, toppeling power lines and leaving many thousands of Israelis without power overnight.
In Pardes Hanna, a 20-year old worker was killed when a wall collapsed at a construction site because of the strong winds.
At the settlement of Har Brakha, a tent collapsed, moderately injuring a 17-year-old boy and lightly injuring a 20-year-old woman.
Crane collapses in Tel Aviv during storm
The Airport Authority briefly closed Sde Dov Airport in Tel Aviv due to the weather conditions, but reopened it after a few hours. Ben-Gurion International Airport, meanwhile, remains open despite the stormy weather, wind gusts of 75-92 kilometers per hour, rain and hail.
The entrance to Ayalon Highway from Kibbutz Galuyot was closed after a tree fell on the road. Several streets in Tel Aviv were also blocked due to damage caused to the road from the weather. Trees also fell down on roads in Ra'anana and Kfar Saba.
Netanya's Fire and Rescue teams were called to several places to extract people trapped in vehicles due to flooding and people trapped in elevators because of power outages. A fire also broke out at an electrical closet in an apartment in the city. Fire and Rescue teams also had to deal with fallen trees across the city and scaffoldings that fell near the Carmel Hotel.
Cranes collapsed at construction sites in both Tel Aviv and Netanya.
Delays in trains were expected due to technical issues with the power grid in central Israel, and power outages occurred in Givat Shmuel, Petah Tikva, Netanya and Ramat HaSharon.
Despite the rain and winds, the weather is still unseasonably warm and possibly hazy, according to weather forecasters at Meteo-tech. Towards evening the rainfall will get heavier and there is a risk of floods in the streams of the east and the south.
Raanan Ben-Zur, Eli Senyor, Itay Blumenthal, Noam (Dabul) Dvir, Elisha Ben Kimon and Hillel Posek contributed to this report.