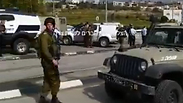 An IDF soldier was seriously wounded in a stabbing terror attack near Kiryat Arba in the West Bank on Monday morning, while a rocket was fired at Israel from the Gaza Strip in the evening.
The 19-year-old soldier was stabbed in the neck, but was still able to shoot and kill his attacker, 22-years-old Raed Jaradat. Another soldier at the scene also opened fire on the Palestinian attacker.
The Armored Corps soldier was evacuated to Shaare Tzedek Medial Center in Jerusalem.
Video from the scene
A relative of the terrorist, Iyad Rawhi Jaradat, 19, was shot dead by IDF forces during clashes near Beit Anoun in the West Bank, according to the Palestinian Health Ministry.
Jaradat was killed during clashes that broke out when the IDF was working to disperse a march towards the home of the dead terrorist.
In a separate incident, just before 3pm on Monday, a Palestinian who tried to stab an Israeli soldier in Hebron was shot dead. No one was hurt in the attack.
On Monday evening, shortly after 7pm, a rocket was fired from Shuhada cemetery south of Beit Hanoun in the northern Gaza Strip, and landed in an open area at Shaar HaNegev Regional Council. No one was hurt and no damage was caused.
A shadowy Gaza group, inspired by the Islamic State organization, claimed responsibility for the attack.
In response to the rocket fire, the IAF attacked two communications antennas used by Hamas' military wing, the Izz ad-Din al-Qassam Brigades - one in the central Gaza Strip and the other in the south, near the Dahaniya airport. There were no Palestinian casualties in either strike.
Military spokesman Lt. Col. Peter Lerner says that "the intolerable reality of civilians continually living under the threat of Gaza rockets is unacceptable, unbearable and must stop. Hamas must enforce their responsibilities or face the consequences. We will act against those that attack us and hold those that enable attacks against Israel accountable."
Two Israelis were moderately wounded in stabbing attacks in the West Bank on Sunday while another incident in Hebron resulted in a female attacker being seriously wounded by security forces.
Elior Levy contributed o this report.